The installation convocation of Temperance Chapter No 2714 was opened by Jim Molloy, and then having dealt with all the ordinary business, he welcomed the principal visitor, Assistant to the Provincial Grand Principals David Barr into the room.

On entering the chapter, David was supported by the group chairman Dave Johnson, along with Provincial Grand Steward Bill Griffiths. With the formalities out of the way the three principals got on with the task in hand, the ceremony of installation.
The chapter assistant director of ceremonies Karl Brennan took control and presented the chapter DC Jeff Hodge as third principal elect, Jeff Whitehead as second principal elect and Ian Hayhurst as first principal elect. Once all had been installed, James Molloy presented the red robe address, Ian Hayhurst the purple robe address and Jeff Whitehead that of the blue robe address. The charter of the chapter, book of regulations and byelaws were transferred, and the appointment and investment of officers ensued.
On completion of the formalities David Barr stood to convey the congratulations and good wishes of the Grand Superintendent Designate Mark Matthews. He also thanked the grand and Provincial grand officers for their support, expressing admiration for the way that Karl Brennan, now the DC had performed his duties throughout.
Ian then presented David Barr with two cheques on behalf of the chapter, the first to the West Lancashire Freemasons' Charity and the second to the Liverpool Group Food Bank Appeal. Shortly afterwards Dave Barr and his entourage then retired, after which the chapter was closed and the companions made their way to the banqueting suite.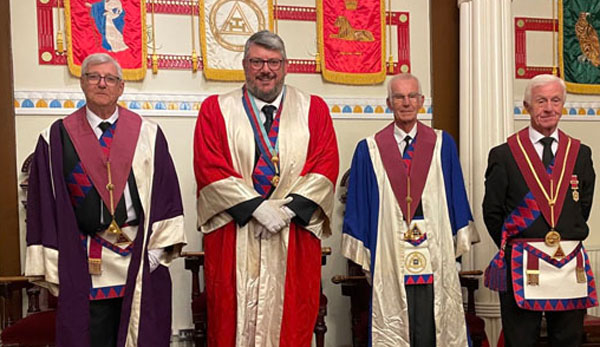 A very fine meal was enjoyed by all and the customary toasts were proposed. Dave Barr covered many of the subjects the Grand Superintendent Designate wished to convey, such as charities, membership, and new ideas from the recent Royal Arch survey.
The toast to the three principals was proposed by Jim Molloy, and in response Ian Hayhurst thanked Jim for an excellent ceremony of installation. He also thanked former DC Jeff Hodge and his successor Karl Brennan for the way the evening had been organised and most importantly, he thanked the members of the chapter for their continued support.
Dave Johnson also expressed his thanks to the chapter, in particular their generosity in donating to the Liverpool Group Food Bank appeal. Following a lovely evening the janitor gave the traditional farewell toast.