Ian Felton was exalted into Red Triangle Chapter No 3874 in a sincere enhanced exaltation ceremony.  The chapter was duly opened in the usual manner by the three principals; first principal Mike Fox, second principal Ian McGovern and third principal Alan Routledge. Once the initial business of the chapter had been conducted Mike Fox asked principal sojourner Alan Sale to retire and entrust the candidate.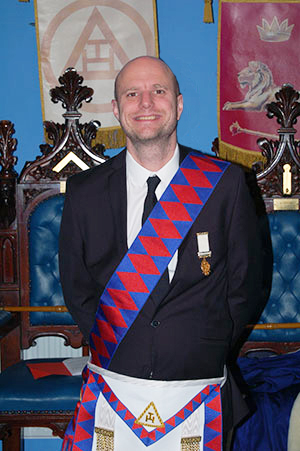 Alan re-entered the chapter with the candidate and the ceremony proceeded. Alan led Ian through the exaltation in a dignified manner and was ably assisted by first assistant sojourner John Coppell. The enhanced explanations and prayers were read by Ian McGovern and Alan Routledge. On completion of the ceremony Ian was taken to a position in the west where Mike Fox gave a flawless explanation of the signs.
The ceremony of exaltation being completed, the three principals congratulated Ian and formally welcomed him into the chapter, hoping he would have many happy years of companionship in the chapter.
Mike Fox thanked everyone that took part in the ceremony, giving a special mention to David Douglas and Stewart Allen for their part in the ceremony. Woolton Group Mentor Ian McGovern presented Ian with a booklet of the Royal Arch.
After the remaining business of the evening was completed, the chapter was closed and the companions retired to the festive board for a very enjoyable meal and good company.
Alan Routledge proposed the toast to Ian and welcomed him into the Royal Arch, saying he would be a great asset to the chapter as he has proved to be since joining his Craft lodge.
Ian responded to the toast to his health, stating how much he had enjoyed his exaltation ceremony and was looking forward to his future in Royal Arch Masonry. The charities were honoured and raised a total of £104.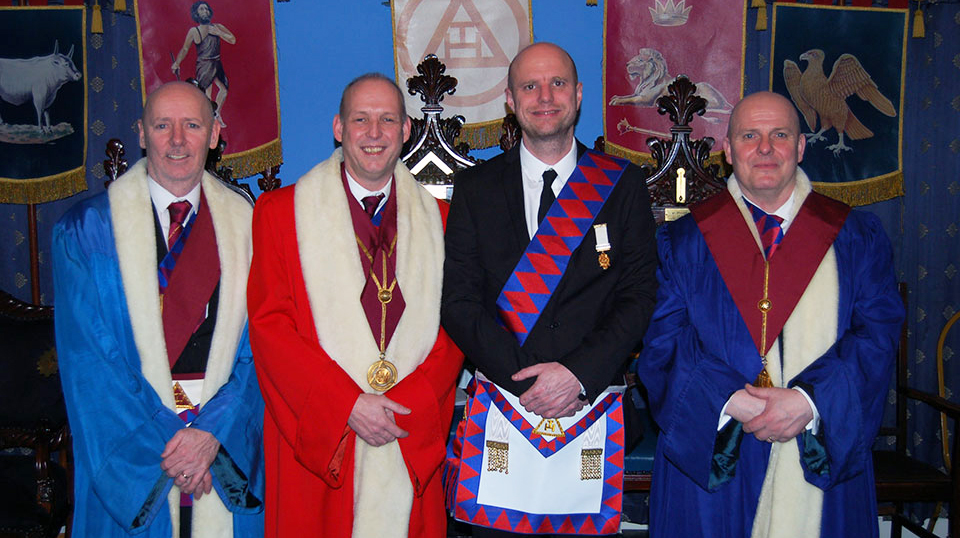 Article and photographs by Doug Lace.