Ian Coates was installed in the chair of King Solomon in November by Jim Hamilton who had been in the chair for the previous three years due to COVID-19 restrictions. Provincial Junior Grand Warden Ben Gorry was representing Provincial Grand Master Tony Harrison and was accompanied by Past Assistant Provincial Grand Masters Keith Kemp and Philip Gardner, past group chairman Jim Wilson, John Lee, Ken Needham, Paul Broadley, Andrew Keith, Gordon Evans and Alan Tomlinson, together with Lancaster Group Chairman Neil McGill and group secretary Chris Larder.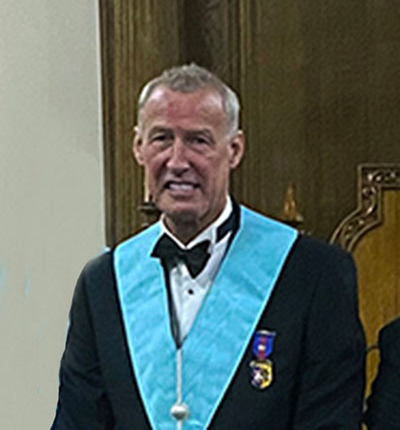 Jim Hamilton invited John Stanley to act as installing senior warden; Keith Heys to act as installing junior warden and Paul Broadley to act as installing inner guard. Ian was presented for installation by director of ceremonies Richard Holdstock.
Ian Coates comes from a working class background where his father was a farm labourer and his mother shelled shrimps to help financially. He was brought up at Glasson Dock until nine years of age when his parents split up and he moved with his mother to Lancaster. Ian started at Lancaster Royal Grammar School in 1972 and left at 16 desperate to start to earn a proper living instead of a paper round seven days a week and pot-washing at the Dalton Arms at weekends.
Ian started work at Storeys, whilst doing day release to further his education, taking a Business Studies ONC. He volunteered for redundancy when Storeys announced closure and started his first job as a company representative and never looked back. Ian joined Molnlycke in 1984 as the youngest ever representative and stayed with the company through its numerous name changes until retiring from Essity as International Key Account Director. Ian was responsible for sales of hygiene disposables to all the top-class food service providers which included McDonald's, Burger King and KFC until 5 October 2021.
Ian has been married for 39 years and has a son and daughter both of who are married. He has been blessed with a granddaughter and grandson respectively.
Ian joined Lancaster Castle in 2005 when he was proposed by Richard Holdstock and seconded by John Stanley. He enjoys the social and charitable side of Masonry, although admits to struggling with the ritual side, partly because history was his least favourite subject at school and he doesn't have a great memory but always tries to do his best! Other interests include DIY, golf, Latin and ballroom dancing, cars and motorbikes.
During his installation ceremony, the third degree working tools were presented by Derek Allen, those of the second degree were delivered by John Bassinder and Ian Lonsdale completed the trio with the first degree tools. The address to the newly-installed master was given by John Stanley and the address to the wardens by Phil Howden and that to the brethren of the lodge by the Ben Gorry.
On completion of the installation ceremony Jim Hamilton presented a list of donations made during the past year to Ben Gorry. A total of £3,700 was given, comprising £500 to Lancaster Masonic Hall, £1,600 to the West Lancashire Freemasons' Charity and £1,600 to Morecambe Food Bank Appeal.
At the festive board that followed, 79 sat down to dine. The toast to the new master was proposed by Richard Holdstock. David Tattersall was guest organist and the master's song was sung by John Bates. A raffle raised £605, in addition to £40 raised by the 'Master's Swindle'.