Bikers' Chapter No 1380 installation should have taken place in May, but owing to the suspension had to be moved to September.

Following the 'rule of six' and all current guidance and regulations, the installation was performed at Bryn Masonic Hall and after making the required amendments and allowances to the ritual, the ceremony was completed successfully and the dignity of the occasion maintained. It was unfortunate though, the restrictions meant that Assistant to the Provincial Grand Principals Mike Threlfall, who was to represent the Grand Superintendent, was unable to attend and receive the £200 donation to MCF 2021 Festival
The day started as usual with breakfast at Bryn Masonic Hall. The bikers don't hold a festive board as following the meeting the members take to the highways and bye-ways together.
Companions of the chapter were determined to hold the installation and allow the 'light red' progression to continue. Greg Casson was installed into the chair of first principal and his motorcycling companions, Andy Baxendale, into the chair of second principal and Iain Wilson into the chair of third principal. As first-time principles they complete an all 'light red' team with three sojourners and 12 stewards waiting to progress.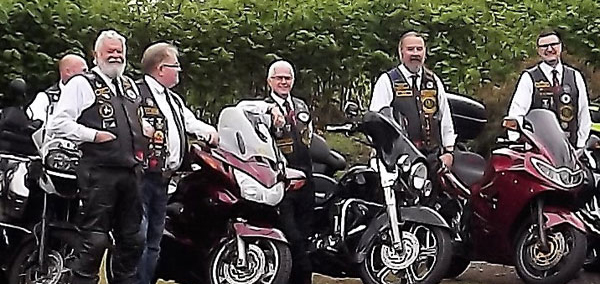 As the chapter only meet twice a year, and the installation was carried forward from May to September, there will have to be some re-arranging done for the next meeting in May 2021.
Bikers' Chapter started back in 2016 when the Widows Sons Masonic Bikers Association, with others, who were keen to form a Royal Arch Chapter, decided to rename Skelmersdale Waterloo Chapter No.1380, and by attracting like-minded companions and brethren with a shared interest in motorbikes, boosted the numbers from single figures to meetings of over 60.
So it was that an historic chapter consecrated in 1926 was able to continue in a new direction and in 2019 the Supreme Grand Chapter acceded to the request to change the name to the 'Bikers' Chapter' (as it had become commonly known and referred to).and the warrant enfaced accordingly. Complex negotiations followed, and with help from Province, a myriad of logistical difficulties were overcome, and the necessary changes to bylaws were made.
The chapter was allowed to move to Bryn and meet in its own peculiar fashion, including raising money for the MCF 2021 Festival and other worthy charities and community involvement, such as their support of the NHS Blood Bikes and local schools in the Wigan area.

Thanks to Barry Dickinson, Provincial Publicity Officer and Bikers' Chapter DC for the pictures.
Article by Ian K Dawson Wigan GPO.