The evening was set as members of Lodge of Peace and Unity No 314 and their guests gathered at Preston Masonic Hall to celebrate Howard Jones' 50 years in Craft Masonry.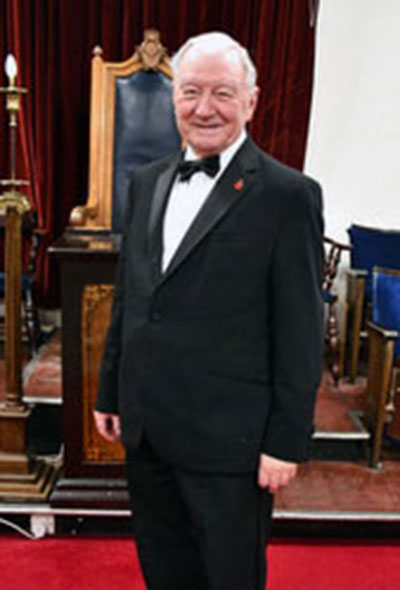 The lodge was opened by the WM David Tattersall and his regular officers and after going through the degrees, the Provincial Grand Director of Ceremonies Malcolm Bell announced that outside the door of the lodge and demanding entrance stood the Provincial Grand Master designate Mark Matthews, accompanied by Assistant Provincial Grand Masters Frank Umbers, Andy Whittle, Duncan Smith, Peter Lockett and Peter Schofield, Along with other grand officers, Provincial Grand Wardens and acting Provincial grand officers. On entering, Mark took the salute and was presented to David who proceeded to offer Mark the gavel of the lodge, which he enthusiastically accepted.
Mark wished all brethren a good evening and said: "It is a great honour to preside over this 50 years in Freemasonry celebration for our much beloved brother Howard Jones, Past Deputy Provincial Grand Master for the Province of West Lancashire. Following a request from Mark, Malcolm Bell then placed the Howard in a comfortable chair in front of Mark.
Howard's story began in January 1941, when he was born at the maternity hospital in Oxford Street, Liverpool. Other people, though not as famous as Howard, born in 1941, include football manager Sir Alex Ferguson, singers Bob Dylan, Neil Diamond, Long John Baldrey and Wilson Pickett, cook Delia Smith and rock drummer Charlie Watts from the Rolling Stones.
Howard's parents were Sidney and Winifred and they married in July 1936. Howard's dad was a company secretary working at the Cotton Exchange Building in Liverpool. Digressing back slightly to the Liverpool blitz of 1941, that building suffered extensive bomb damage at the time of Howard's birth. Howard's mum was a housewife, who not only looked after Howard but also his brother Philip, who was born three years later in 1944.
Howard attended Booker Avenue School from 1945 to 1951 and then progressed to the Liverpool Institute High School from 1951 to 1957. Howard is very scholarly and he gained numerous O-Levels at school. During his early working life, he also went on to obtain an Ordinary National Certificate in Applied Physics. He built on those academic achievements by gaining professional qualifications in banking and, in his younger days, Howard was also a very accomplished sportsman.
Work for Howard started at the Guardian Royal Insurance in Liverpool; then moving to the UK Atomic Energy Authority, working in book keeping. That work might have sounded fairly drab. Howard further expanded on the point however, revealing that it included assisting in the stock-taking of uranium.
Further employment was gained at Lloyds and Scottish Finance, as an office manager. This was followed by a brief return to the nuclear industry at Rank Bush Murphy, based in Welwyn Garden City. Then in 1965, he got a job working for the Midland Bank in Liverpool.
Not long after his return home, Howard met his wife Pat and they married in August 1967. Howard and Pat have two children, a son Kevin and a daughter Lindsey. The family has expanded further with grandchildren Edward, Olivia, Matthew, Joseph, and Phoebe. Very sadly their eldest grandchild Edward passed away 15 years ago, following a tragic accident whilst on holiday.
Howard was proposed in to Freemasonry by Les Siddell and seconded by Hal Eccles. He was initiated in October 1972 into King's Lodge No 3101. He became master for the first time in 1983 and again in 1995. Unfortunately, King's Lodge closed in 2019 and Howard has been a member of Lodge of Peace and Unity since 1997, becoming master in 2008.
In the Royal Arch, Howard was exalted in King's Chapter No 3101 in 1981. He has been the first principal in various chapters on three occasions. Howard currently holds the high rank of Past Grand Standard Bearer.
Howard was selected to be the Provincial Junior Grand Warden of the Province in 1996 and thoroughly enjoyed 'strutting his stuff' around the Province, attending many ceremonies, events and functions with the then Provincial Grand Master Kenneth Moxley who was also attending on the evening.
With the Past Provincial Grand Master Peter Hosker and Past Assistant Provincial Grand Master Ray Martland, Howard was on the working party and sub committee to amalgamate the Provincial charities and to form the constitution and rules for the new charity known today as the West Lancashire Freemasons' Charity (WLFC). In 2008, upon its launch, Howard was one of the original WLFC Trustees and later he went on to become the chairman.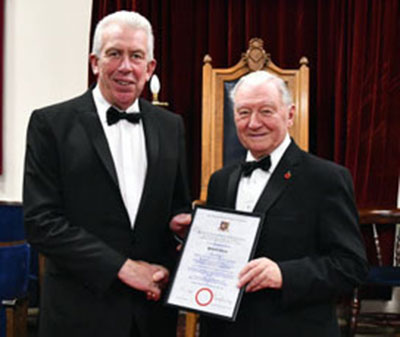 In his address to the brethren, Mark said: "We are all aware as to how successful WLFC has become, based on the hard work and legacy of Howard and his colleagues."
From 2008 to 2012 Howard was an Assistant Provincial Grand Master. He became the Deputy Provincial Grand Master in 2012, a position he held until 2015.
Howard holds the very high rank of Past Grand Sword Bearer. Mark said: "I'm sure that you will all agree that the work performed by Howard on our behalf, as an Assistant and Deputy Provincial Grand Master was outstanding."
By 2015, and when Mark Matthews was the chairman of the charity and Howard had retired from the role as Deputy Provincial Grand Master, he came back for a further term as a trustee.
Mark then addressed Howard directly, saying: "50 years of service to Masonry is a remarkable achievement. Your Masonic career is nothing short of glittering and exceptional. I hope that you will continue to enjoy the Craft for many years to come." Mark then asked the group chairman to read the celebration certificate, which was duly presented to Howard. After Mark and Howard retired, accompanied by the grand officers and Provincial team, the lodge was closed.
At the festive board, David Winder proposed the toast to Howard and said: "It is a privilege to be asked to give this toast to your health and I do hope that we will still be friends afterwards. David mentioned that he has been a bona fide Manchester United supporter since 1965 and to give an accolade to a Liverpool supporter is far from normal." It also occurred to David that perhaps the lyrics of that iconic song of the 70's 'The Age of Aquarius', which coincides with Howard's birth sign, sums up most adequately many of Howard's attributes. 'When the moon is in the seventh house, and Jupiter aligns with Mars, then peace will guide the planets and love will steer the stars'.
David continued by saying: "1941 was of course for you and your mother and father the dawning of your age of Aquarius! In my submission, the lyrics of the second verse are so you, 'Harmony and understanding, sympathy and trust abounding, no more falsehoods or derisions, golden living dreams of visions, and the mind's true liberation – Aquarius!'"
David summed up his toast by stating" "All present here this evening have not come to support you because they had too, but because they wanted too and on that day you were made a Mason you were charged to be respectable in life, useful to mankind and an ornament to the society of which you were that day made a member and furthermore fulfilled your obligations on every account and more."
In response to the toast, Howard thanked David for his for his kind words, Mark for his presentation in the lodge room and all those who had come that evening to be part of his celebration. The WM David Tattersall then presented flowers to Howard for his wife Pat and to Mark for his wife Debbie.
During the evening Jim Corkhill raffled an Everton FC football and Liverpool FC football, raising a sum in excess of £200.