Any lodge wishing to see their master installed with style and precision can't do better than asking an expert to take the chair for that purpose. St Anne's Lodge No 2457 have just such a member in the person of Ian Ward.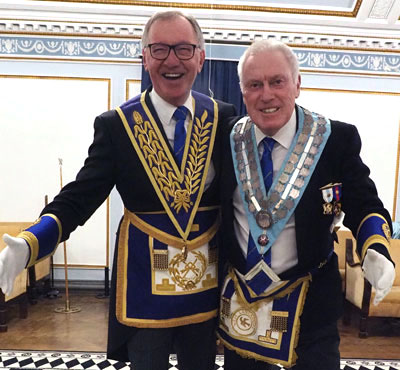 Ian is one of the most experienced preceptors of the Fylde Group Lodge of Instruction No 65. To be precise, Ian is an honorary member of St Anne's Lodge and was pleased to be invited to install Howard Monk into the chair of King Solomon.
Now Howard is no stranger to being WM at St Annes, having enjoyed a two-year reign in the years 1995 and 1996. He has continued to be an active member ever since. Howard is quite a character and is well known as a member and player of Fylde Rugby Union Football Club, where he played alongside the great Bill Beaumont as well as the lodge chaplain David Hamilton. Howard also includes playing golf and gardening amongst his hobbies and has often taken part in local Masonic golfing competitions.
Representing the Provincial Grand Master Mark Matthews was the South Fylde Group Chairman, John Robbie Porter. He was accompanied by acting Provincial Junior Grand Deacon Derek Lewthwaite. Derek had earlier been elected a joining member of St Anne's Lodge, along with Eli Gillett and Mark Rae. To round things off, Derek ended the meeting as the senior warden for the ensuing year and Eli the inner guard. Talk about rapid promotion!
These were just two aspects of what proved to be quite a cabinet reshuffle. Mike Hornby, who had begun the meeting as director of ceremonies, was called upon to present the working tools in the third degree and ended the meeting as the treasurer.
Arthur Thompson was given a rest after presenting the second degree tools and was followed by David Whyman who delivered an exceptional explanation of the first degree tools. David started and ended the meeting as the senior deacon but was also appointed to the very important office of lodge almoner. Also, just to show how versatile he can be, David conducted the Westhoughton raffle at the festive board.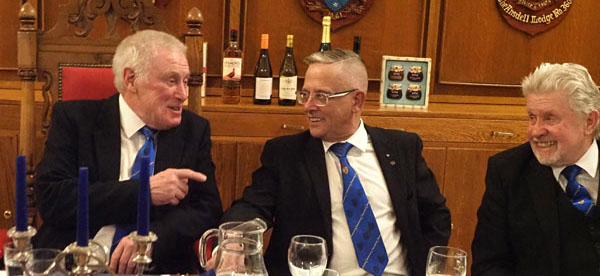 Peter Rowan, who had started as charity steward and assistant director of ceremonies retained his charity role but was promoted to director of ceremonies and formed a new partnership with lodge veteran Geoff Crosland, who had presented Howard Monk for installation and became assistant director of ceremonies.
The installing wardens were Alan Barlow as senior warden and Vinnie Carte as junior. Each of them installed the incoming wardens with addresses delivered with some style. Alan also delivered the address to the incoming inner guard. With a new almoner taking post the group almoner, Graham Smith, was on hand to deliver a comprehensive address to David concerning his new role.
The address to the WM was delivered by Ian Ward, who continued to show everyone how ritual should be delivered, then John Robbie delivered his own, longer, version of the address to the brethren of the lodge, in that theatrical and earnest manner that he carries off so well.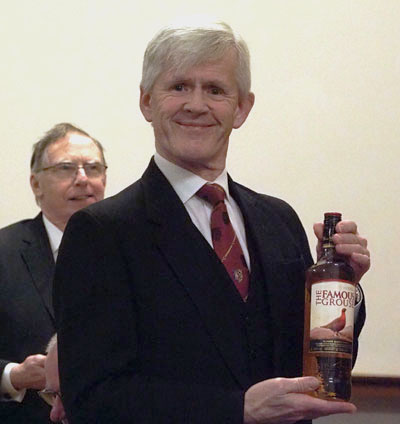 John Robbie then rose to bring the greetings from the Provincial Grand Master and congratulated Ian and the other lodge members who had taken part in a top-notch ceremony. He then received cheques and information on the charitable donations made by the lodge which were recorded as follows; Prostate Cancer £350, One Fylde £350, Blackpool Young Carers £350, Swallows £350, WLFC £350 – plus £210 donated by way of Gift Aid envelopes, WLMCPSS £15 and £101 had previously been donated to an Anti-Bullying Charity during the year.
With the final lodge business quickly dealt with, the brethren retired to and excellent festive board after which the customary toasts were observed. Responding on behalf of the grand officers, John Robbie Porter enlarged on the history of Howard Monk the rugby player. He pointed out that Howard had achieved the remarkable feat of still being a rugby player at the grand old age of 66 years.
John Robbie went on to discuss the excellent occasion when the Pro Grand Master, Jonathan Spence, had installed our new Provincial Grand Master. He also spoke about the Membership Pathway Scheme, Masonic halls and Provincial charity donations at Christmas.
In response to Peter Rowan's toast to the WM, Howard Monk thanked everyone who had taken part in the installation ceremony. He also thanked everyone who had attended for their support and concluded by making the presentation of an orchid plant to John Robbie to take home to his wife Sue.
As already mentioned, David Whyman conducted the raffle which raised £171 and the first prize, somewhat appropriately, was won by Ian Ward. The evening was then brought to a close by John Nicholls who proposed the tyler's toast.