Of course, every lodge has its own way of deciding how charitable donations are chosen and distributed to the various causes. Harmonic Lodge No 216 decides who the beneficiaries will be when the past masters of the lodge meet at the end of each calendar year.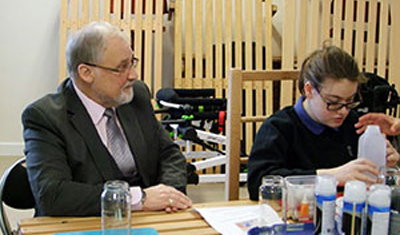 Harmonic Lodge brethren have always handed over cheques at their installation meetings for the West Lancashire Freemasons' Charity and also since 2017, the Masonic Charitable Foundation 2021 Festival. Gradually over the years other non-Masonic charities have been nominated to receive a little help. This year £1,000 was allocated to help local charities. £200 may not be a great amount to some charities but to the charities selected by Harmonic Lodge, every penny counts.
Stick 'n' Step – Lodge secretary Eric O'Callaghan proposed a donation to a charity he is involved with and is close to his heart, Stick 'N' Step, a charity devoted to children with cerebral palsy located in Tudor Hall, Runcorn. Together with the other Masonic beneficiaries chosen this year, a cheque for £200 was presented to Kelly Marks, Local Community Fundraiser at the charity. Eric took time out to visit the Runcorn centre to present the cheque and see first-hand the charity at work.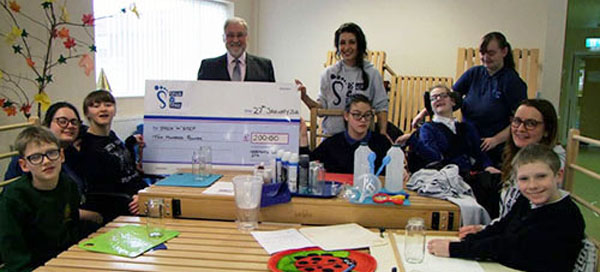 On arrival, Eric signed the visitors' book and was offered a cup of tea on arrival. He was then invited to see first-hand the children enjoying a variety of educational and therapeutic activities. Amidst the laughter, Eric tried his hand at sign language by spelling out his name to a group of children with hearing difficulties before engaging with another group of would be scientists in a dexterity exercise.
Eric and the children were instructed to open a bottle of water and pour some into a jam jar until it was three quarters full. Then they squirted shaving foam into fill the jar. They were then asked to choose from a variety of food colouring; Eric chose purple. When the colour was sprinkled onto the foam, it resembled a cloud drizzling down the chosen colour as rain; in Eric's case, Purple Rain. Eric reminded the children that that was the title of a song by Prince. After enjoying a most memorable afternoon tinged with a little sadness, Eric said his goodbyes, satisfied that the happiness of the children shone through and that the donation will help to provide some simple but vital educational items.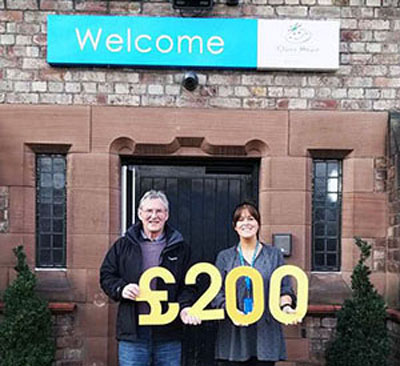 The lodge's assistant director of ceremonies John Donnelly nominated Claire House Hospice in West Derby to be another beneficiary of a donation from this year's charitable fund. Claire House Children's Hospice helps seriously and terminally ill children live life to the full by creating wonderful experiences and bringing back a sense of normality to family life by providing specialist nursing care and emotional support. They help families smile again when life couldn't get any tougher.
John called in to present the cheque for £200 to Community Fundraiser Laren Miller. Laren was extremely grateful for the donation from Harmonic Lodge. She gave John a quick tour of the building which was purchased from the Catholic Diesis for a nominal sum. The centre is currently limited to providing just day care for its service users. A lot of money needs to be raised to convert the upper floors into space to accommodate short and long-term places for terminally sick children. They are also planning to upgrade the access from East Prescot Road as they currently have to use a school entrance which is presenting a few problems.
Lodge charity steward Gerry Carson nominated the Woodlands Hospice to receive a donation from Harmonic Lodge. Woodlands was where an old friend of the lodge, John Cairns, spent the last days of his life. He received the best possible care and was made as comfortable as possible in the caring hands of the dedicated staff. Gerry's late wife Eileen spent some time there in respite following an operation to relieve a sciatic nerve.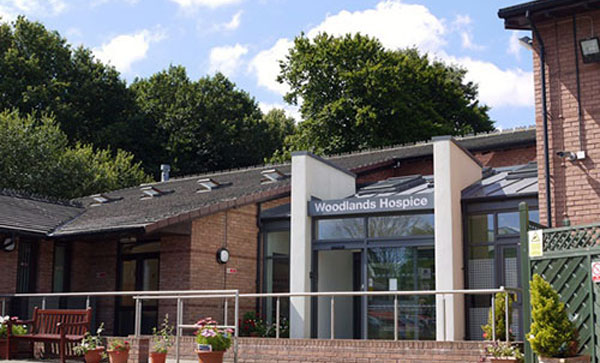 John Owen JP, the most senior in terms of membership, nominated the North West Air Ambulance to receive a little more help. A recent grant of £4,000 to the North West Air Ambulance from the West Lancashire Freemasons' Charity has brought the total Masonic support given to air ambulances across the country to £2,400,000 since 2007. The Air Ambulance operates right across West Lancashire and has made more than 700 lifesaving flights during the past year, transporting seriously injured people to hospital and treating patients on the ground.
Lodge almoner Geoff Holly once again nominated the MYASC (Maghull Young Adults Social Club) which meets monthly at Maghull Town Hall. The club held its first meeting in April 2002. Mike Penn and his wife Viv were concerned when their son Jonathon wanted to join his friends and go into Liverpool socialising.
They nearly lost Jonathon shortly after he was born when he was fed milk; normal for all children but at the time doctors were unaware that Jonathon was born with a condition called lacticaemia. The late diagnosis left Jonathon with learning difficulties. As he grew up, he was able to live quite a normal life as long as he eats the correct food.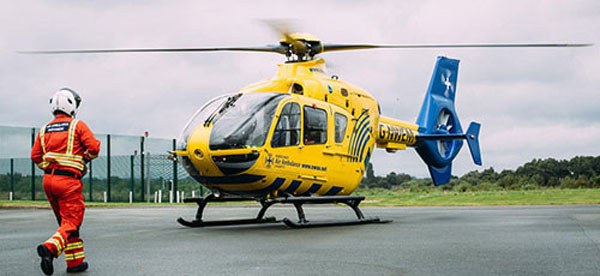 Mike and Viv decided to start the club so that Jonathon and his friends could enjoy a monthly social evening, dancing to the disco and enjoying a pint in a safe environment.  The club is open to 18+ young adults who have various forms of disabilities. The couple charge just £1 entrance for members whilst carers and buddies are admitted free. They rely on donations from various benefactors as overheads exceed income.
They have received recognition for their hard work over the years including an invitation to the Queens Garden Party, a Paul Harris award from the local branch of the Rotary Club, the highest award they can give to deserving people, a Civic Award from Maghull Town Hall and, just recently, a Christmas Golden Star from BBC Northwest. However, it is donations of money that they rely on to keep the club going; and Harmonic Lodge will continue to support their hard work.
At the end of the current calendar year, brethren will no doubt nominate some other deserving causes. The charity steward will push hard to top up his account to help other non-Masonic charities with much needed financial help. Previous recipients have included the Anthony Nolan Trust, the Alzheimer's Society, British Heart Foundation and Guide Dogs for the Blind to name but just a few.

Article by Phil Marshall.