Children attending Blackpool Victoria Hospital Accident and Emergency department are in for a sweet surprise Christmas-time treat thanks to a gift from Normoss Round Table Lodge No 8741 who, together with North Fylde group officers and Great Arley School children, clubbed together to buy a sleigh–load of chocolate-filled selection boxes for the kids attending hospital.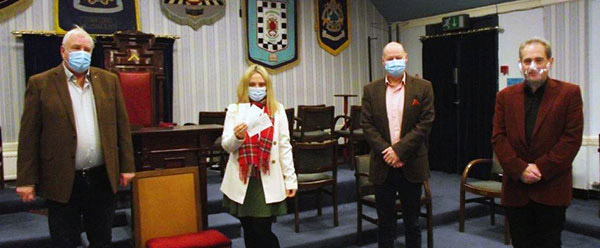 Normoss Round Table Lodge in past years have presented the schoolchildren at Great Arley School, Thornton, which cater for boys and girls with moderate learning difficulties, with toys at Christmas but with the ravages of COVID-19 raging this year the pupils opted to play Santa themselves for youngsters who unfortunately find they are in A & E at the Victoria Hospital.
It was decided that Christmas selection boxes would be the ideal best medicine for young patients at the hospital. Selection boxes were collected at the school and the members of Normoss Round Table Lodge and the group officers, on hearing of this effort, pitched in with loads more of the delicious confectionary items.
Charli Johnson, the funding coordinator for Great Arley School, met up with Caroline Gomery, a paediatric advanced practitioner from Blackpool Victoria Hospital, Alan Berwick the IPM of Normoss Round Table Lodge and John Cross the vice chairman of the North Fylde Group and the handover of the selection boxes duly took place.
Since Caroline was on her way to start work at the Victoria the selection boxes were loaded into her car which served as a temporary sleigh to transport the sweet treats directly to the A & E department in Blackpool.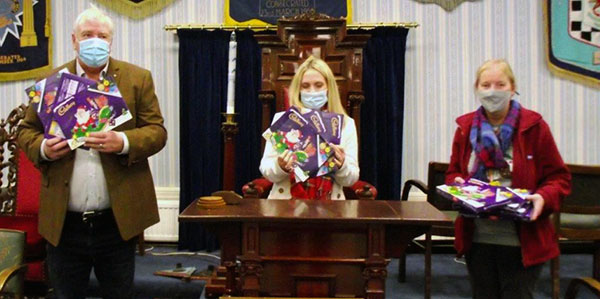 Both Caroline and Charli asked John Cross that the grateful thanks of the hospital and the school be given to the donors of the much appreciated Christmas gifts for the children. Charli in turn was asked to take back to Great Arley School, not only the good wishes of Normoss Round Table Lodge, but an extra gift on behalf of the members –  a cheque for £500.
Waiting in the wings was another guest in the person of Ian Smith the charity officer for Fylde Chapter No 2758 who also presented Charli with a cheque, this time for £200.
To round up proceedings John Cross presented Charli with yet another cheque from Biscopham Lodge No 7646 and from Wyre Lodge No 7704, for £500, as these lodges had heard of the fund raising efforts of Normoss Round Table Lodge, which regretfully is handing in its warrant next year and some of the members are joining their lodge.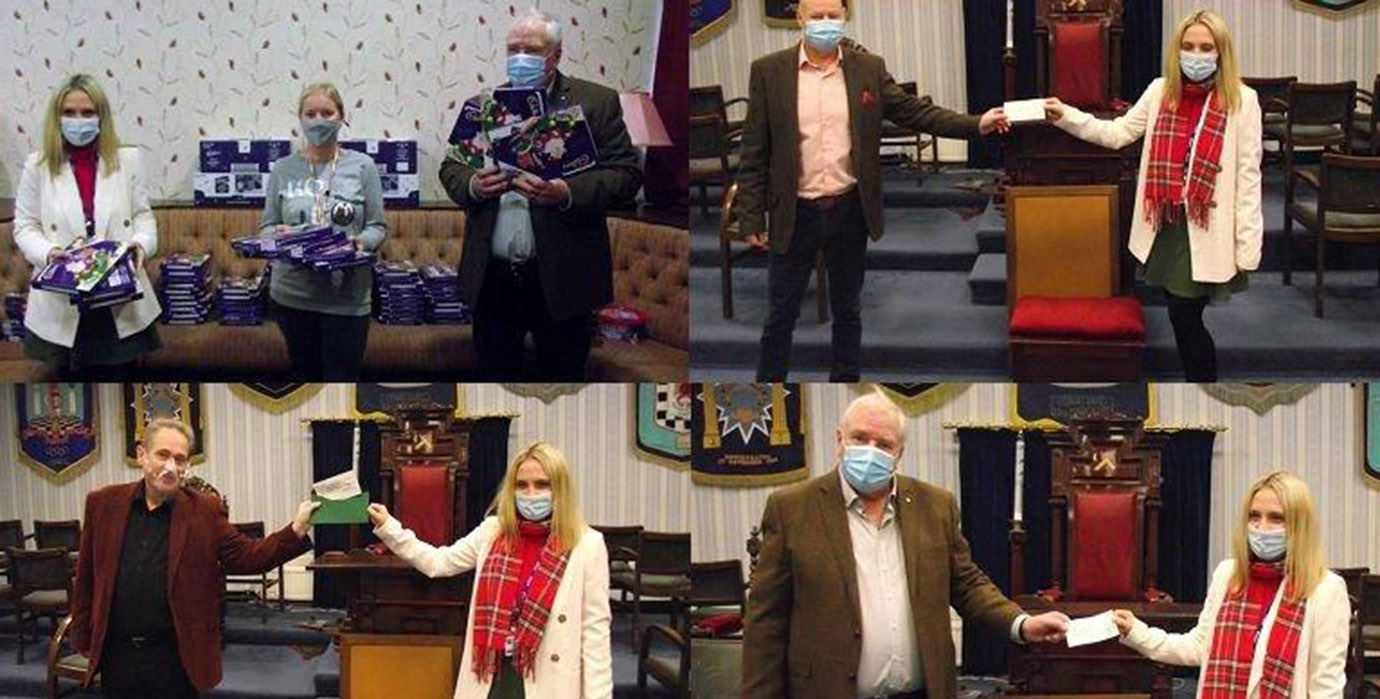 Charli spoke of her utter delight at being presented with the cheques which will be put towards an improvement project of an art centre at Great Arley School.
Article by Bob Boal.