No-one could have dreamt back in 2019 that it would be October 2021 when next our brethren and companions would be able to get together in a formal Provincial setting and celebrate the achievements, appointments and promotions in that time honoured manner for which we are famous.
So much has happened since those Craft and Royal Arch meetings back then, and Provincial business has continued, albeit by embracing technology and using virtual meetings. However, nothing can beat the face-to-face interaction and getting together as brethren and friends as the Province has done throughout the last century and back into the one before. But now it was the time for the scheduled meeting of Provincial Grand Chapter, and everyone was looking forward to the return of our processions, formal proceedings, and of course, dining in what has always been a wonderful atmosphere.
Having narrowly missed out on being able to hold the Craft meeting earlier in the year due to the lingering restrictions from 'you know what', the decision was made to seize the opportunity to make amends, in some part at least, to those who had received their Provincial honours without personal acknowledgement. What followed was an historic event, with Provincial Grand Chapter being held in the morning, and a Provincial Grand Lodge in celebration of honours already bestowed held in the afternoon, both at the same venue, The Winter Gardens in Blackpool. Historic? Yes! It seems that such a joint event had never in the history of the Province taken place before.
The morning meeting went really well. Full credit must go to Provincial Grand Director of Ceremonies David Thomas, who managed affairs with aplomb, ensuring that everything went with military precision. It was such a welcome sight to see the colourful procession in the Winter Gardens again, and the companions proudly receiving their honours in the time-honoured fashion. It was a very special morning also for Ian Sanderson and Malcolm Alexander, both appointed and invested as Assistants to the Provincial Grand Principles.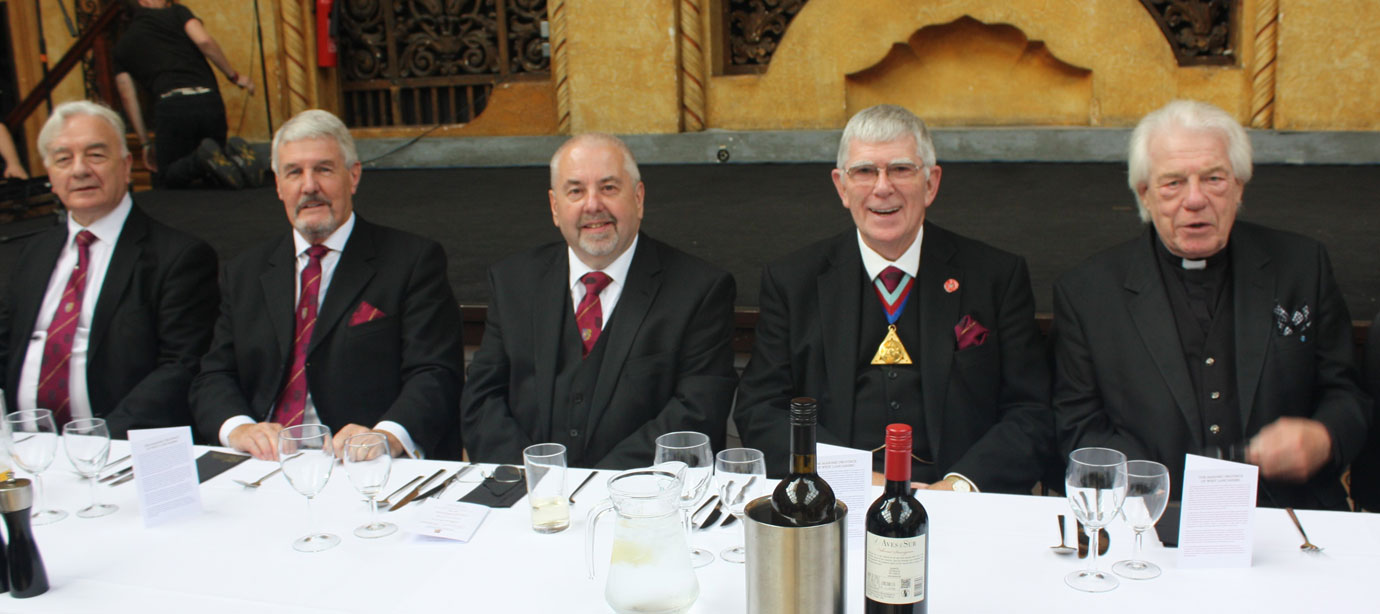 Following the meeting, it was a short sojourn to the Spanish Room for what was described as a 'light lunch', that was anything but light, with fish, cold meats and cheese with no shortage of wine to enjoy with it and the formal toasts that followed. David Barr proposed the toast to the recipients, with a response from incoming Provincial Grand Scribe Nehemiah Harry Chatfield.
Following lunch, Provincial Grand Lodge was held in the afternoon. It followed a similar format to normal, with a full procession and formal opening, but as all recipients had actually received their appointments back in April, things had to be done differently. Malcolm Bell, Provincial Grand Director of Ceremonies, managed the changes and everything went off without a hitch. Each recipient was announced and escorted to the Provincial Grand Master Tony Harrison fully collared, and instead of being invested were congratulated personally by him. There was one notable exception however, involving the full formal ceremony, and that was the appointment and investiture of Peter Schofield as an Assistant Provincial Grand Master.
Tony addressed the brethren, as he would normally do, and amongst the many thanks, acknowledgements and news and updates, announced that we would, in our Province, return to the wearing of white gloves in Masonic meetings from the beginning of November. The meeting finished with the traditional procession out with all the pomp and ceremony we have missed so much.
It was wonderful to be back amongst friends and to see those people we have missed so much for the last two years.