For many years, the Wigan Group has pledged to make an annual donation to the Wigan and Leigh Hospice. This donation is funded by lodge and chapter donations and the group has supported the hospice financially since its inception.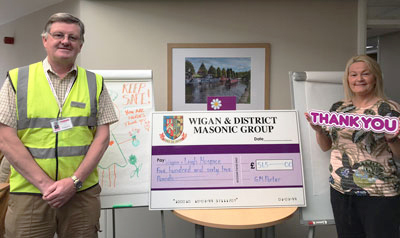 Recently, the current COVID-19 pandemic has proved to be an extremely difficult period for everyone and with our more elderly and vulnerable members self-isolating during the lockdown, for their safety and wellbeing. Fundraising by the hospice has proved increasingly more difficult, having a huge effect on the vital services provided by them. With this in mind, the group chairman Geoffrey Porter, who is himself self-isolating, made arrangements with the hospice for the 2020 donation to be made on St George's Day, Thursday 23 April.
Geoffrey chose St George's day knowing that the group membership officer, Bob Duff, a volunteer driver at the hospice, would be on duty that day. Bob willingly agreed to deliver the cheque for £565 on behalf of the group and had the great pleasure of handing the cheque to Christine Edwardson, a community fundraiser at the hospice, before commencing his important duties.
Freemasons in the Wigan Masonic Group have supported Wigan and Leigh Hospice for many years. Before the hospice re-located from Poolstock to Hindley, it was the Rev Ted Rowlands who guided and encouraged the group to become closely involved in fundraising for the then, new hospice to be built and the group is proud to continue that ongoing support for the excellent service provided to our local community.
Geoffrey feels that whilst our meetings and gatherings may have been suspended, the world should know that Freemasonry is still very much alive and kicking and it is at times like this that we must show the happy and beneficial effects of our ancient institution. That our hearts are expanded by benevolence and that we are here when help is required. He is proud that it is still the desire of the group to continue with that financial support for the hospice when the hospice shops are closed in line with the government guidelines and fund-raising events seriously curtailed.
We cannot let them down when they need us most and this donation will contribute to the ongoing support Freemasons give to hospices not only locally but also nationally.