Baby Beat is a part of the Lancashire Teaching Hospitals Charity which is dedicated to improving the care of unborn babies through to birth and supporting their mothers. It was set up in 1987 by a team of midwives and a consultant in obstetrics at Lancashire Teaching Hospitals.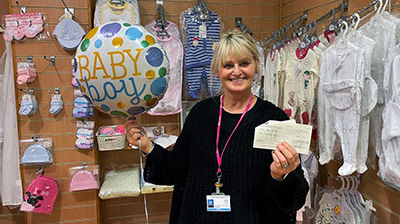 The charity seeks to raise funds to acquire specialist equipment to use on the maternity unit and Neonatal Intensive Care Unit. Preston Guild Lodge No 4408 donated £400 to this special charity and hopes that the donation will, in a small way, assist Baby Beat to continue to help to deliver for years to come.
Their first acquisition all those years ago was a foetal monitor but more recently Baby Beat has been able to buy specialist top-of-the-range cots which are known for their safety-focused design and unrestricted access for staff to provide their continued excellent care. A comfortable staff room on the Neonatal Care Unit has been developed as well as a Pregnancy Loss Counselling Room and a Bereavement Suite which provide some comfort at what must be an impossible time for parents.
The dedicated staff at the maternity and neonatal units helps mothers deliver their new born with ultimate care and dignity. All support through Baby Beat ensures the necessary equipment can be made available. They also maintain a small stock of baby clothes which generates income. Quite often, premature babies are too small for standard clothing.