When the Provincial Grand Director of Ceremonies Malcolm Bell demanded entrance for the Provincial Grand Master James Anthony Harrison, the room recognised the importance of this 100th anniversary for Heber Lodge No 4388.

Whilst there weren't many of the original members in attendance, the members that were there, were there to celebrate 100 years of continuous Freemasonry by the lodge, consecrated on the 5 May 1922.
Accompanying Tony Harrison into the lodge were; acting Deputy ProvGM David Ogden, the Provincial Grand Wardens, grand Officers, acting Provincial grand officers and the Wigan Group Chairman and vice chairman. After they took their seats and when all were settled, the WM John Hampson offered Tony the gavel, who on this occasion accepted it and took his rightful place in King Solomons chair before opening a Provincial Grand Lodge.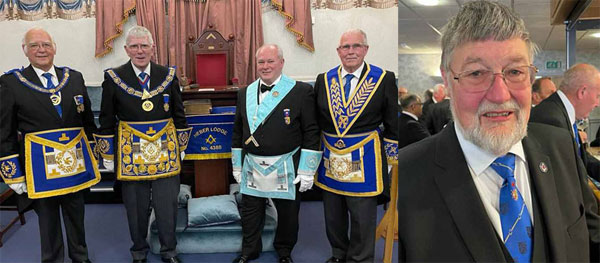 The Provincial Grand Wardens took their places and Provincial Grand Secretary Peter Taylor was requested to read the Centenary Warrant, issued by Grand Lodge. John Hall, Provincial Grand Chaplain, rose next and reminded the lodge of its great heritage and its place in the growth of Wigan before giving a prayer of dedication to the lodge.
Before Tony handed the chair and the gavel back to John Hampson, Malcolm Bell asked John Rylance to join him on the Masonic pavement to receive an honour from Tony Harrison. In fact, Tony advised that it was his honour to promote John to the rank of PPGSuptWks for the continuous service that he had given to Freemasonry over numerous years and when John had graciously accepted his promotion and returned to his secretarial post, Tony closed the Provincial Grand Lodge passing the gavel back to John and returned to his seat leaving John Hampson to continue with the formalities of the risings.
This allowing the Provincial team to retire from the lodge before John closed the 100th regular meeting of Heber Lodge and allowing its members, visitors and guests to retire to yet another tremendous festive board prepared by Christine and Philip at Bryn Masonic Hall.
By Ian K Dawson, Wigan Group Publicity Officer.