Geoffrey Ireland and current DC of the Lodge of Harmony No 220 enjoyed a wonderful celebration of 50 years in Freemasonry at Garston Masonic Hall. The Lodge was honoured in the presence of Assistant Provincial Grand Master Andrew Whittle accompanied by the Woolton and Garston Group Chairman John Murphy and other distinguished guests.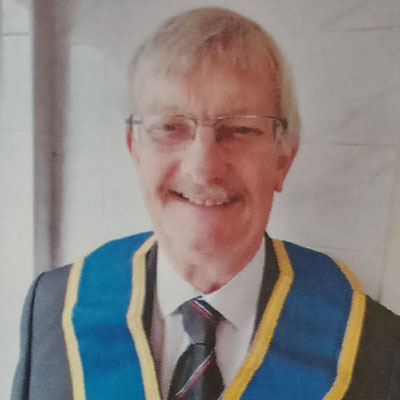 Once the lodge was opened, the WM Ken Wagner offered the gavel to Andrew who happily accepted, Andrew then directed the Provincial Deputy Grand Director of Ceremonies to place the celebrant seated before him for an overview of Geoffrey's career.
Working for various organizations in paid employment, Geoffrey started as a shipping clerk and subsequently a senior system analyst but also had an illustrious career with the Territorial Army. Joining as a soldier he was selected to attend at Sandhurst and received a commission. He eventually retired from the TA at the rank of Major. Geoff married Joan in Liverpool Cathedral in 1981 and had two sons, he and Joan loved to travel and visited Europe, the Americas, Australia, Asia and the Falkland Islands.
Geoffrey's father and brother were both Freemasons and he was initiated into Fairfield Lodge No 2290 on 11 April 1972 and was installed into the chair in 1984 and 2007. He also took the roles DC and organist. He remained a member of Fairfield Lodge until it closed in 2008 whereupon he joined the Lodge of Harmony he received a promotion in October 2003 to the rank of Past Provincial Senior Grand Deacon and was appointed DC in the lodge in 2021.
John Murphy read the certificate from the Provincial Grand Master to Geoff and the brethren, and after warm applause Geoff and the distinguished guests retired to the festive board. The toast to Geoff was proposed by his long-time friend Michael Café and Geoff gave a moving response and thanked everyone for their warmth and support. He was then presented with a lapel badge and some bottles of fine wine provide by the brethren of the lodge and everyone agreed this was a wonderful way in which to draw the lodge's 2022 Masonic season to a close.