Darren Forshaw, the WM of Hardshaw Lodge No 8722, and the charity officer Brian Moore called into the St Helens Young Carers Centre to present Lorraine Pennington, who is the head of the Young Carers Centre, with a cheque for £250 to help support the great work being done by the Lorraine and her staff.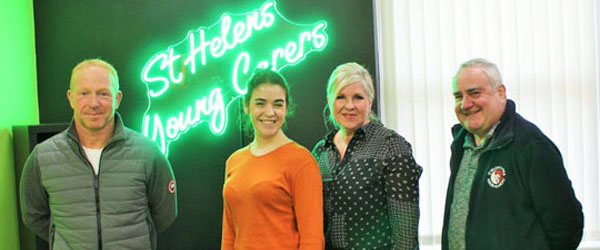 St Helens Carers Centre is an independent registered charity that supports unpaid carers looking after someone who lives in the St Helens area. They were established in 2000 by a group of local carers who wanted to establish a meeting point for carers and improve information and services. They are a Network Partner of Carers Trust and have been providing support to carers for over 20 years!
The young carer team is made up of family support officers, an outreach worker such as Eleni Foskett, activities coordinator and service manager.
Family support officers work with families and young carers to offer a package of support whether it is big or small with the aim to reduce the caring role of young carers. The young carers outreach officer works with the school staff and other agencies so that they are more aware of young carers and what they do and how they can play their part to support and help them.
The activities coordinator is responsible for organising and planning activities and sessions and will be there when carers attend for respite at the centre.