Starkie Lodge No1070, played host to Lodge Buchan St John No 636, who arrived from Scotland with a contingent of 33 brethren from a variety of Scottish lodges, to Southport.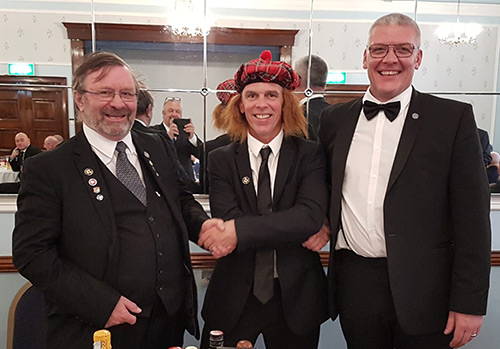 The occasion was to put on a demonstration of a first degree ceremony in the Scottish Constitution and after the lodge had been opened by WM Alan Cornes of Starkie Lodge, the Scottish contingent were admitted and presented to the Southport brethren.
The lodge was then called off and Alan handed over the master's chair to Kevin Taggert, master of Lodge Buchan St John, who proceeded to give the demonstration of the Scottish first degree.
One of the junior members of Starkie Lodge, Phil Watkins, had agreed to act as candidate for the occasion to give it a more authentic feel and the assembled 77 brethren would not be disappointed by the excellent ceremony that ensued.
Whilst it was recognisable as a first degree, the format and wording of the presentation was almost completely different to an English degree, but all the more enjoyable for that.
This is the second occasion that both these lodges have met up, with Starkie Lodge previously travelling to Broxburn in Scotland for Kevin's installation which came about due to joining member Craig Clifford also being a member of Lodge Buchan St John.
An enjoyable festive board followed, which started with IPM Martin Bos's son Rowan, piping in the brethren to the tune of 'Flower of Scotland' in full Scottish regalia. The bond of friendship and brotherhood were further strengthened by an exchange of gifts between the two masters. Kevin presenting a quaich (pronounced quake) or friendship cup and Alan presenting a framed West Lancashire Provincial badge. Not to be outdone, all the Scottish visitors were also given a stick of Southport rock!
A superb sum was raised of almost £570 over the evening, which was donated to Lodge Buchan St John who will give it to their chosen veterans' charity 'Who Cares Wins'.