Halcyon Lodge No 6500 welcomed Kwame Asare as a new member to the lodge in April 2022. Kwame's interest in Freemasonry began in his home country of Ghana where he developed an ambition to join at some time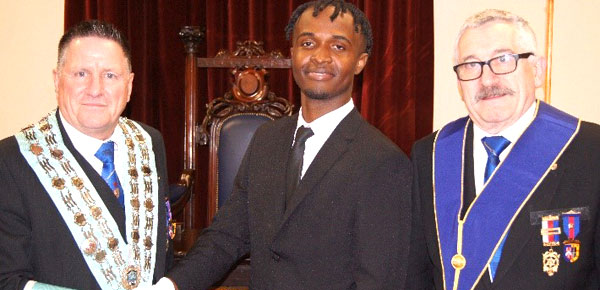 Several years ago, he relocated to the UK and after settling he rekindled his interest. Fortunately, at this time the UGLE recruitment campaign was well underway and Kwame was able to identify a route into Masonry. Kwame runs his own business in logistics and freight forwarding in the North West which fills most of his week.
Having engaged with the Preston Group Membership Officer, Kwame was introduced to Halcyon Lodge. Halcyon Lodge proved an ideal lodge for him to join as it meets on a Friday evening. So, the ball was set in motion. Kwame went through the new recruitment process and all was set for him to become a member until COVID stepped in and Masonic activity was suspended.
During this lockdown period, the lodge kept in regular contact which was really appreciated. No-one knew how long Masonry would be on hold. Once the lockdown was lifted, Kwame was able to meet more members of Halcyon Lodge and a date was set for his initiation.
The ceremony was performed by the WM Brian Woodburn, who is also one of the Assistants to the Provincial Grand Director of Ceremonies, so Kwame was in very good hands. Junior deacon by Preslav Lyubenov put in an excellent performance with his first ceremony. Group chairman John Rimmer was on hand to welcome Kwame into Preston Freemasonry.