As in previous years, the Ormskirk and Bootle Group Golf Day event was held at Mossock Hall Golf Club in Bickerstaff, with two separate competitions being held, one for Masons and one for non-Masons. There was in total 34 golfers taking part. Mike Trigg of Aughton Lodge No 7996 did an excellent job of organising the day with everyone teeing off within an hour.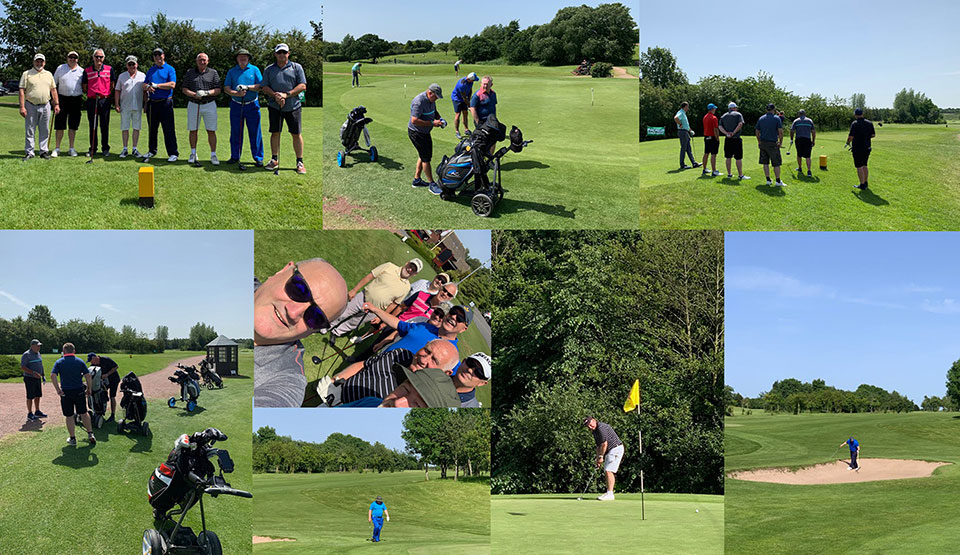 Once again, the weather gods were smiling with temperatures in the high 20's, a light breeze kept everyone slightly cooler and of course tested their golfing prowess. With temperatures this high the players were supported in keeping their fluid levels up by our very own 'trolley dollies', John Doyle from Aughton Lodge and Mike Dutton of Lathom Abbey Lodge No 6286 who provided much needed refreshments throughout the day.
Even with the on-course libations, the 19th hole was a welcome site for all after the heat of the day. After the tales of near misses and heroic shots were recalled, everyone retired upstairs to dine and declare the winners.
Harry Jones of Lathom Abbey Lodge came in with the winning score for a Mason, with last year's victor Colin Higginson of Adelphi Lodge No 6819 taking second place. First place in the non-masonic competition was Neil Turner, and in second place Terry Jones. The prizes were presented by Jim Carrie the Chairman of Helping Ormskirk Masonic Endeavours, (HOME). Unfortunately, the non-Masonic players were unable to stay for dinner.
Prizes for the nearest the pin competitions were awarded to Danny Geraghty, Geoff Dixon and Neil Turner. Paul Hindley won the longest drive competition on the 17th hole. All prizes were very kindly donated by companies and individuals including Williams BMW, BMW, Shell, BMTR Bike Tyrestore, Mossock Hall Golf Club, Geoff Lever of Stanley of Bickerstaffe Lodge No 3511, Neil Hamilton, Ian Tupling, John Doyle and John Wootton who are members of Aughton Lodge.
During the evening, a raffle was held which raised £150. Also, an auction for two tickets to a British Super Bike event raised the magnificent sum of £250. Adding this to other monies raised on the day, the total crept to just over the £500 mark with all these proceeds going to the Ormskirk and Bootle Group to be distributed to their worthy causes at a later date.