There was a feeling of excitement within the lodges and chapters of the Gladstone Group as it was announced that the group dinner was to be held once again. The setting for the occasion at the end of January was at the Adelphi Hotel, Liverpool, following a lengthy suspension due to the COVID pandemic.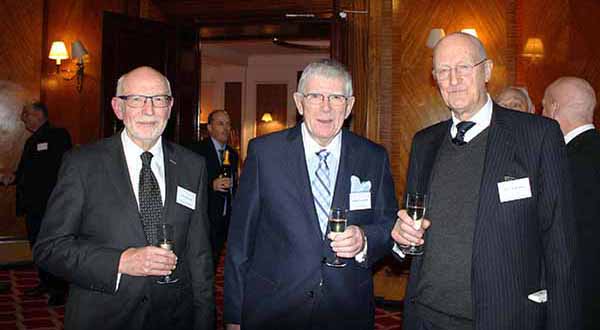 Under the expert guidance of group secretary Matt Casson, vice chairman Paul Storrar and treasurer Paul McLachlan, plans were afoot to organise the event and encourage participation of what promised to be a great event.
Brethren and companions from the many lodges and chapters of the Gladstone Group did not disappoint and started to arrive at the hotel, with over 100 guests present. A team of stewards from Adelphi Lodge No 6819 made sure that all were checked in, coats hung and a glass of champagne or soft drink presented. Early in the evening, a reception was held for entered apprentices, fellow crafts and master Masons, as well as WMs and first principals of chapters, along with their immediate predecessors.
Group chairman John James was delighted to greet Provincial Grand Master Tony Harrison as principal guest, and welcome other distinguished guests to the group dinner; Assistant Provincial Grand Master Mark Matthews, Assistant to the Provincial Grand Principals Ian Sanderson, Provincial Grand Director of Ceremonies Malcolm Bell, Past Provincial Deputy Grand Director of Ceremonies Gary Smith, Provincial Senior Grand Warden Daniel Crossley, Provincial Junior Grand Warden Ben Gorry and Provincial Deputy Grand Secretary Andrew Ridal.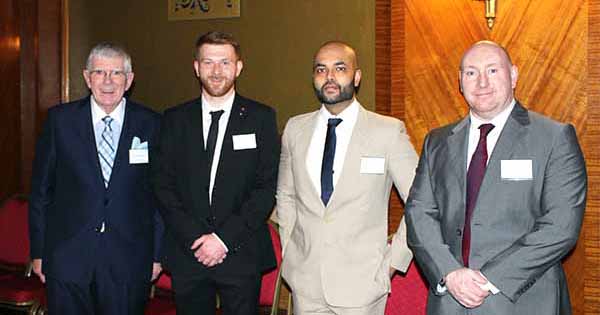 All of the guests mingled at the reception, providing a welcome opportunity to catch up with many brethren who had not seen each other for some time following the pandemic and subsequent lock-down.
Tony was very keen to speak with all entered apprentices, fellow crafts and master Masons and it was commented by many of those present on how nice it was to be able to speak with the Provincial Grand Master on such an occasion.
The group dinner was called to order after an hour by Malcolm Bell and the brethren and companions then found their tables, ably assisted by the excellent table plans. Once seated the guests were treated to a three-course meal consisting of smoked salmon starter, chicken with seasonal vegetables and roast potatoes, and sticky toffee pudding and custard. Stewards were on hand at each table ensuring that the guests had plentiful wine should they desire a top-up. Once coffees had been served and the dinner complete, the brethren were once again called to order to return thanks.

Master of University Lodge of Liverpool No 4274 Liam Buchanan was called upon to deliver a toast to the Provincial Grand Master Tony Harrison. He did so in a unique and humorous manner which the guests responded to with loud applause.
Tony then rose to respond to the toast and thanked Liam for such an expressive and humorous toast, adding that he would be visiting University Lodge of Liverpool for the occasion of their centenary year and would be working on a similar toast for Liam. The guests laughed and applauded.
Tony thanked Gladstone Group Chairman John James for all his hard work and that of the group, and in particular those brethren who had been involved in making the group dinner such a success. Tony commented that he enjoyed coming to Liverpool and that the evening had been no exception. Congratulating brethren who had achieved first appointments and promotions, he was looking forward to seeing them all at Provincial Grand Lodge in May for the investiture ceremony.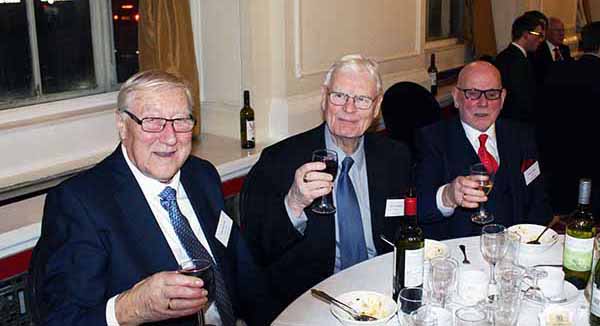 Finally, John James presented a cheque to Tony for £1,000 to the West Lancashire Freemasons' Charity on behalf of the Gladstone Group. Tony thanked all present for such a generous donation. John then presented Tony with a gift in token of appreciation and flowers for Tony's wife Maureen. Tony said that he would look forward to enjoying his favourite tipple in a quiet moment and thanked John. John also presented gifts to Mark Matthews and Ian Sanderson in token of appreciation for their services to the group as well.
In response to a toast to the group, so ably proposed by the Provincial Senior Grand Warden Daniel Crossley, the group chairman reported on the lengths members of the group had gone to alleviate the problems some elderly, homeless and disabled people had faced during the lockdowns. He also highlighted the generosity of group members in supporting the Masonic Charitable Foundation 2021 Festival and food bank support initiatives and other Masonic and non-Masonic charities. He then congratulated all recipients of appointments to and promotion in Provincial Grand Lodge in 2021 and 2022.
The evening was drawn to a close under the stewardship of tyler Paul Harford who delivered the tyler's toast. Many brethren stayed to chat until late on in the evening, having enjoyed each other's company and to continue the celebration of the group dinner.