A most memorable night was had by all at Everton Lodge No 823, in the Liverpool Group at the installation of Ronnie Stowers in the presence of the Past Assistant Provincial Grand Master Kevin Poynton, accompanied by Liverpool Group Chairman David Johnson, vice chairman Bob Paterson and Everton Lodge secretary Neil Francis, who is also the group secretary.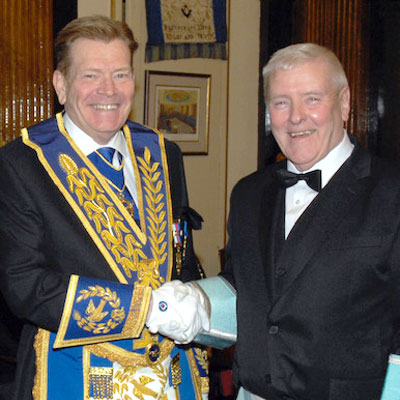 Together with Provincial officers and brethren of Everton Lodge and other lodges, and in particular the master elect's own brother Alan Stowers and brethren from his lodge, Abercromby Lodge 3699 including their WM Gil Smith, all witnessed a very confident and competent installing master Jim Eddowes, who stepped in on behalf of Ian Haynes. His delivery of the whole ceremony was flawless and a pleasure to observe, together with delivery of the working tools for a master mason by Tom Maxwell, for the fellow craft by Phil Eddowes and those of an entered apprentice by Paul Shrimpton.
Once installed, the WM invested his officers for the ensuing year with the deacons' addresses being delivered by the Liverpool Group Chairman David Johnson and the address to the master by Jim Eddowes. The address to the senior warden was delivered by Steve Roberts and that to the junior warden by Paul Robison, both of whom acted as the warden's during the installation. The later joint address to the two new wardens was delivered by Bob Paterson, concluding with the address to the brethren of the lodge by the Kevin Poynton.
The festive board was of a very high standard once again, with an excellent menu choice of Scotch broth, a main of roast lamb, an Eton mess desert finished by a cheese platter. After the meal the customary toasts were observed. The toast to grand officers was given by the newly invested senior warden Phil Eddowes and responded to by Kevin Poynton.
Giving the toast to Provincial grand officers was the newly invested junior warden Paul Shrimpton. A special toast was made by the immediate past master to the newly installed master after which, the principal guest and group chairman took their leave. The WM then responded to the toast to his health and the evening continued to the last toast of the evening, the tyler's toast, delivered by the tyler John Daly.
A raffle was conducted and raised £220, the charity plate in the lodge raised £120, a total of £340 raised and donated to 'The Brain Charity'. The Brain Charity champions neurodiversity and helps anyone affected by a neurological condition, so they can lead longer, healthier and happier lives. They also provide support for their family, friends, and carers.
There are more than 600 different neurological conditions affecting the brain, spine, or nervous system. Many are well-known, such as dementia, cluster headaches, strokes and ADHD. The Brain Charity is the only charity in the UK to be here for every single one of them and is based in Liverpool