Graham Taylor was proclaimed as WM of Torrisholme Lodge No 5245 in the presence of Chris Butterfield Past Junior Grand Deacon, who was the representative of the Deputy Provincial Grand Master in Charge, Philip Gunning.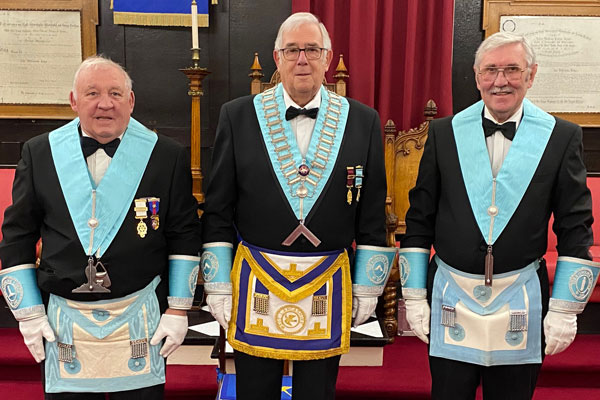 Chris was accompanied by Past Assistant Grand Director of Ceremonies Neil McGill Chairman of the Lancaster Group, group secretary Chris Larder and acting Provincial grand officers Paul Broadley Provincial Grand Almoner and Dave Shaw Provincial Junior Grand Deacon.
At his proclamation ceremony, Graham was proclaimed master by Assistant Director of Ceremonies John Bates. The proclamation officers were senior warden Bryan Cambidge from Morecambe Lodge No 1561, junior warden Barry Robinson from Heysham Lodge No 4108 and inner guard Steve Plevey from Poulton-le-Sands Lodge No 1051.
The installed master's working tools were presented by Brian Dewhurst. The working tools for the third, second and first degrees were presented by Paul Marshall, Stephen Brown and Kevin Hodgson respectively.
Once installed as WM, Graham appointed John Hayes as senior warden and David Tarbun as junior warden. On completion of the proclamation ceremony, the WM presented Chris Butterfield with cheques to the value of £1,025 for Masonic and non-Masonic charities.
Giving the address to the master was Alan Flack, the address to the wardens by Paul Dent and the address to the brethren of Torrisholme Lodge by Chris Butterfield.
The organist was David Tattersall and the master's song was performed by John Bates. A total of 41 brethren attended the festive board and the raffle raised £205 with a further £35 raised from the Master's Swindle. The toast to the WM was given by John Bates.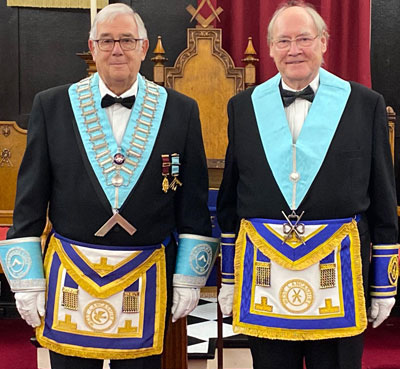 WM Graham was born in London in 1948 within the sound of Bow Bells!! He was educated in London and started work with Barclays Bank in 1965, which is where he met his future wife Glenda in 1972 who he married in 1973.
Graham emigrated to Canada in 1974 and returned in 1976. After a short spell working for a finance company, he joined North Wales Police in 1976, mainly working as a village bobby and in the traffic department, retiring in 2003.
Graham moved north and joined Lancashire Police as a civilian working in the control room until his final retirement in 2013.
Graham and Glenda have two children, both adopted. His daughter Gemma now has three children of her own. Sadly, their son Jonathan who was also a member of Torrisholme Lodge passed away in 2020.
Most of Graham's spare time is spent on grandparent duties, either collecting from school or babysitting!! He also enjoys gardening and trying to train his newly arrived puppy who is certainly a handful.
Graham's Masonic career began in October 1985 when he was initiated into Bromfield Lodge No 4233 in Wrexham. He was WM of that lodge in 1997.
Following his move to Lancashire, Graham was having a cup of coffee in the Green Room Coffee House in Morecambe when he spotted a very imposing man sat nearby reading what was an instantly recognisable little blue book to Freemasons. The man turned out to be John Bates who introduced Graham to Torrisholme Lodge which he joined in 2013. Graham became WM of Torrisholme for the first time in 2015 and then again in 2021.
Graham was appointed Past Provincial Grand Assistant Director of Ceremonies in 2003 and promoted to Past Provincial Junior Grand Deacon in 2021.