Graham Ingleby has celebrated 50 years as a Freemason since his initiation on 23 December 1971. The ceremony was conducted by Assistant Provincial Grand Master Peter Schofield who was accompanied by grand officers; Keith Kemp, John Lee, Peter Mason, Provincial Deputy Grand Director of Ceremonies Ryan Modlin, Provincial Senior Grand Deacon Andrew Keith, Past Provincial Assistant Grand Pursuivant Joe Crabtree, Past Provincial Grand Steward Michael Tax, Lancaster Group Chairman Neil McGill, group vice chairman Scott Devine and group secretary Chris Larder.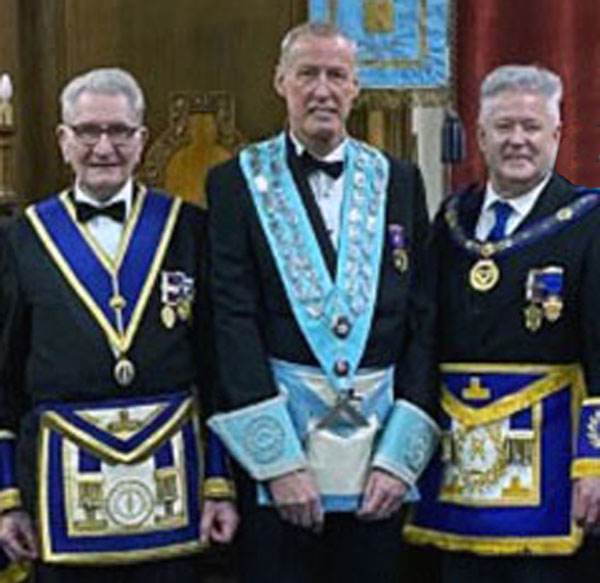 Peter was conducted to his seat by acting Provincial deacons Keith Heyes and John Stanley where he was introduced to the WM Ian Coates who offered him the master's gavel, which was duly accepted. Peter requested the Provincial Deputy Grand Director of Ceremonies to escort Graham Ingleby to a seat in front of the podium so that he could relay Graham's life and Masonic career to the brethren.
Graham was born in July 1938 in Barrow-in-Furness where he lived with his mother Margaret, father Harry and sister June at the family home in Rawlinson Street. Graham's father Harry was a manager of the local Redmans Grocers Shop and Cafe in Barrow prior to promotion as manager of the Lancaster market branch of the business. Graham's family moved to Hastings Road in Lancaster when he was 18 months old before moving to Somerset Avenue in Lancaster when he was 16.
Graham attended Scotforth Primary School and Greaves Secondary School in Lancaster. One of his close friends joined a boarding school in High Wycombe and, as a very independent, outgoing and high-spirited individual, Graham decided that this was something he also wanted to do. After much persuasion, his parents agreed and he joined the school at the age of 12 where he remained for two years before returning to Greaves School following a serious bout of illness.
At school Graham was a keen, active sportsman. He was a member of High Wycombe school athletics team, competing in the hurdles and 100m. In Lancaster, Graham was actively involved in fellwalking throughout the Lakes as a member of his local church's Young People Fellowship and regularly played table tennis in the Lancaster league.
Graham was a member of the St Paul's Church Cubs group before joining the Boys Brigade at St Thomas Church and later the Young Peoples Fellowship where he remained heavily and actively involved up to the age of 25. His local churches played a major role in his younger life where he would regularly attend twice per day on Sunday, becoming a respected member of the congregation.
Graham left school at the age of 15, finishing on a Friday afternoon and starting work on the following Monday morning for local electrical firm Inmans, with the promise of an apprenticeship as an electrician. After leaving school Graham joined the Lancaster Cycling Club and regularly competed in the Preston to Morecambe cycling time trials. On one occasion he toured Scotland, cycling over 100 miles a day for a week, staying in youth hostels with his friend Eric Thornton, who became a Freemason at Duke of Lancaster Lodge No 1353. Graham later took up crown green bowling and snooker which he enjoyed for many years.
During this time his father, who was still employed by Redmans, was told that the premises in Lancaster market was due for closure. Harry enquired if he could take over the business but Mr Redman advised him that this was a foolish idea and the business was destined to fail. Harry was determined to prove Mr Redman wrong and set up a meat stall in his own name, later becoming known as S & T Williams Ltd. Graham decided to leave Inmans and joined the newly established business with his father. Together they developed the business into a well-renowned and respected butchers with a reputation for the highest quality and standards of meat products and service throughout the area.
Graham ran the family business until retirement at the age of 72 when he handed the business, comprising two market stalls and two shops, to his son Jonathon. These continue to successfully trade at the present time. Peter commented: "Graham has demonstrated great leadership and management skills throughout his outstanding career and is an inspiration to us all."
Continuing with the presentation, Peter informed the attendees that Graham took time out from the family business to complete National Service at the age of 19, undergoing basic training in the King's Own Regiment at Lancaster Bowerham Barracks, now the site of the University of Cumbria. He was posted to the Warminster Pay Office and later to Bath where he passed his driving test and achieved clerk and bookkeeper qualifications.
During this time the more mischievous side of Graham's character developed. Nights would be spent with fellow servicemen at the Regency Ballroom where one of the squaddies would pay the entrance fee before allowing the rest to sneak into the building through the toilet window at the rear. Rather than travelling home at weekends, Graham chose to go to the Hammersmith Palais in London with friends.
On completion of National Service, Graham returned to the family business. He met his wife Marjorie at a local dance where he went to the dance with one lady, later leaving the building with Marjorie on his arm. Following courtship Graham and Marjorie were married on 26 September 1962 at Burton-in-Lonsdale. Graham has four children, Tracey, Christopher and Jonathon who all live locally, and Julie who is a school headteacher living in London. He is very proud of each of his seven grandchildren and three great grandchildren, with a further great grandchild on the way.
Graham's Masonic journey began on 23 December 1971 when he was initiated into Lancaster Castle Lodge No 5952 meeting at the Masonic Hall, Church Street, Lancaster. His proposer was his father Harry who had joined 11 years earlier and was junior deacon at his initiation, later being installed as WM in 1977. Graham was passed to a fellow craft on 23 March 1972 and raised to a master Mason on 25 May 1972. Graham was installed as WM of Lancaster Castle Lodge for the first time in 1980 and then again in 1987. He served as lodge director of ceremonies from 1988 to 1996 and lodge representative on the Lancaster and District Group committee from 1999 to 2003.
As a director of ceremonies, Graham was a bit of a stickler, a real traditionalist, everything had to be just right but he was always there to offer help, guidance, encouragement and support to any brother in need. In many respects not just a good director of ceremonies but an excellent mentor to many as well. Graham is a stalwart of Lancaster Castle Lodge and his hard work and dedication over many years has gained the respect of brethren, not just in his lodge but across the group.
He was appointed Past Provincial Junior Grand Deacon in 1990, before promotion to Past Provincial Junior Grand Warden in 1997. He is a founder member of Plantagenet Lodge of Installed Masters No 9357 and was WM in 1998.
In Royal Arch, Graham was exalted into Lancaster Castle Chapter No 5952 in December 1973, where he was later installed as first principal in October 1984 and again in 1985. He served as chapter director of ceremonies for five years. Graham was appointed Provincial Grand Steward in 1990, promoted to Past Provincial Grand Sojourner in 1994 and promoted once again to Past Provincial Grand Scribe Nehemiah in 2000. Graham has been a member of the Provincial Grand Stewards' Chapter of West Lancashire No 8516 since 1991.
In 1975 Graham joined Garnett Mark Lodge No 147 where he was installed as WM in 1989. He has served as Registrar of Marks for 10 years and is Past Provincial Junior Grand Warden. In the Garnett Allied Council No 8 he was WM in 1994 and is Past Grand Standard Bearer.
On completion of Peter's presentation, group chairman Neil McGill presented Graham with the certificate issued by the Province and signed by the ProvGM Tony Harrison for his 50 years of service to Freemasonry and went on to read the dedication to the brethren.