The brethren of Rivington Lodge 8013 gathered at Brookfield Hall, Westhoughton for the installation of Graeme Hunt as their WM. In attendance were Deputy Provincial Grand Master Phillip Gunning and Assistant Provincial Grand Master Stewart Seddon, along with many grand officers, Peter Lockett, Frank Wilkinson, Ken Shaw, John Robson, John Dutchman-Smith, Stephen Gregory, and David Kanvanagh. Also, in tow were a number of acting Provincial grand officers in; Gary Smith, Jim Gregson, David Parker, Stephen Lowe, Allan Shields and Des Sherliker.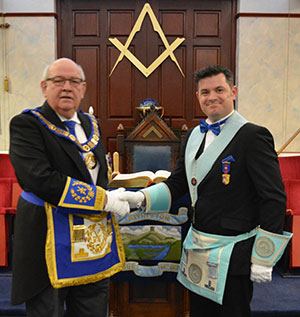 What followed was an excellent ceremony performed by the outgoing master Keith Bennett, who was invested as immediate past master. Graeme was initiated into Verulam Lodge No 6131, at St Albans, in the Province of Hertfordshire on 15 January 2011, passed 21 May 2011 and raised 21 April 2012. He then joined Rivington Lodge in January 2014, taking offices in both lodges. He was then installed as master of his mother lodge on 21 October 2017, whilst being junior warden of Rivington Lodge. Graeme has occupied every office in both lodges and performed well in both. He installed his successor of Verulam Lodge in October 2018 and then within six months took the chair in Rivington Lodge, showing he is a worthy Mason indeed.
Graeme was honoured to have on the acting Provincial team, Rivington Lodge's very own almoner David Parker who was given the acting rank of Provincial Junior Grand Deacon just 5 days earlier, and this was his first official outing in his new rank.
The working tools explanations were presented in a delightful manner, the third was given by Dave Sexton, the second by Lee Derbyshire and the first by Mike Harrison.
A total of £1,300 was given to charities, namely: MCF 2021 Festival £750, Firwood School £100, Eccleshome £100, Masonic bowling £20, Masonic golf £15, Masonic clay pigeon £15 and Derian House £300, along with the envelope scheme for the year £1,523; a grand total of £2,823.
So, Graeme is the master of a lodge for the second time in five months, and the brethren of Rivington Lodge are sure that he will do another fantastic job, as he has two second degrees and two thirds to manage in this ensuring year.