The brethren of Rose of Lancaster Lodge 2325 saw an excellent attendance of 56 brethren and friends, who gathered together to celebrate 50 years in Freemasonry of Gordon Hughes.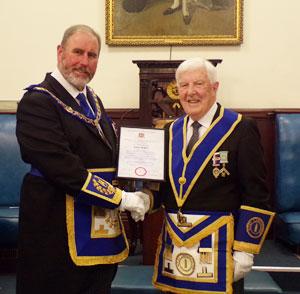 After the lodge had been opened, Assistant Provincial Grand Master Frank Umbers, entered and was pleased to accept the gavel from WM Ken Hornby, on this auspicious occasion.
Frank then proceeded to give a brief and witty synopsis of Gordon's personal and masonic history.
The assembled brethren learned that Gordon had been initiated into 'The Rose' on 16 January 1969, having been introduced into masonry by his father Thomas, who was a member of Bootle Lodge No 1473.
Gordon rose through the ranks and eventually became WM in 1976 and more recently in 2013.
He once again sat in the chair on 19 March 2015, in what he described as his proudest Masonic memory, and that was to initiate his son Philip into the lodge.

Southport Group Chairman Colin Jenkins then had the opportunity of reading out a certificate, signed by Provincial Grand Master Tony Harrison, to mark this golden jubilee. This was then presented by Frank to Gordon accompanied by a warm round of applause from the brethren.
Once the lodge had been closed, the lodge members and visitors retired to a welcomed festive board, where DC Dave Edwards had the pleasure of giving a toast to Gordon, which was of course very well received.