Freemasons are taught to practise charity and to care, not only for their own, but also for the community as a whole and that was none more evident than on the morning of Saturday 1 April 2023 when the Goodwill Lodge No 3896 invited into Widnes Masonic Hall a number of locally based charities and organisations to receive in total donations of £3,000 to help them to continue in the good work that they do.
With representatives from eight local charitable organisations and two local sports clubs along with brethren, families and friends, packed the Peter Browne Suite and listened as Bob Williams welcome them to his lodge's first Giving Day, where each of the invited charities would all be recipients of a charitable donation from the lodge.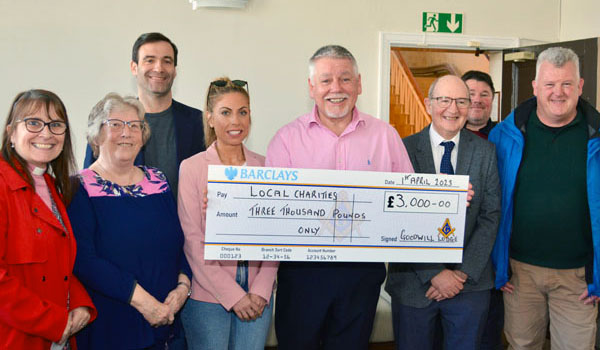 Bob then proceeded to give an overview on how the Goodwill Lodge fitted into the overall framework of Freemasonry in both the Mersey Valley Group and the Province of West Lancashire for which he was one of its Regional Charity Stewards.
An explanation of the four guiding principle of Freemasonry, Integrity, Friendship, Respect and Charity led on nicely to the fact that charity had brought everybody together on this Saturday morning with Bob detailing that all the money being donated had come from the brethren themselves, families and friends through various fund-raising events, personal giving and collections at each lodge meeting.
Bob detailed how the lodge would normally hold a committee meeting at the end of each Masonic season to decide which charity would be the recipient of a donation; once agreed a cheque would be raised and sent but on occasions, no feedback on how the donation was used would be forthcoming.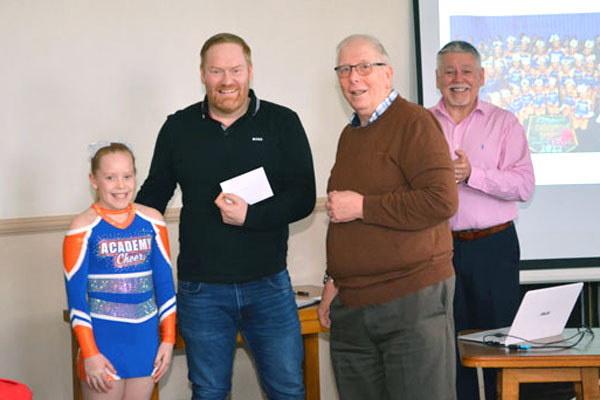 Picking up on the format of recent group giving days, it was agreed to change the lodge's process and hold its own giving day by inviting this year's recipients of a lodge donations into the hall to receive their cheques and to give a brief overview to the lodge brethren and their families on how this donation would help going forwards.
First to receive a donation from the lodge's charity steward David Redhead was the Reverend Linda Riley-Dawkin on behalf of St Michael's and St Thomas' Pantry Appeal. Rev Linda explained that in line with the increase in food bank usage, her appeal was also seeing an unprecedented cry for help especially at weekends when traditional food banks are closed and that the ongoing support from the Freemasons would help to provide fresh fruit and vegetables to many families.
Senior Warden Rob Smith had the pleasure of presenting a cheque to Seb Farrell of Child Bereavement UK who touchingly explained how his charity supports families and educates professionals when a baby or child of any age dies or is dying and helps children, young people, parents and families to rebuild their lives when a child dies.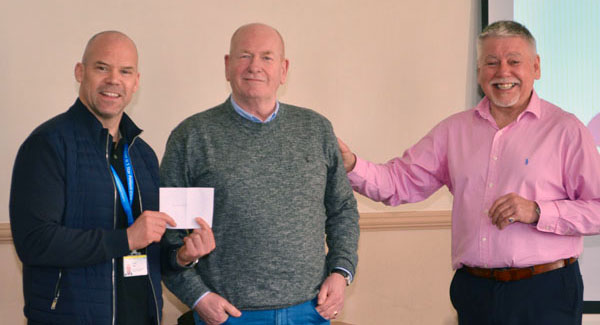 Nicky Harrison, a Safeguarding Lead at a local school had chosen to run the London Marathon of behalf of Papyrus (Prevention of Young Suicide) and it was fitting that it fell on her father Bob to present her with a cheque on behalf of the lodge as he told all those present: "This is apt as I have been giving her money all of her life!" Nicky was supported by Ged Flynn, CEO of Papyrus and between them they explained that suicide was the biggest killer of people under the age of 35 years and that with support this is preventable and that this donation along with Nicky's fundraising would help to provide education and training for a safer community.
Nightstop Communities Northwest were represented by Bex Taylor who outlined their unique services in encompassing secure emergency accommodation for vulnerable homeless people, those at risk of becoming homeless as well as offering a suite of mental health and wellbeing services for the wider community. David Merrill, the lodge treasurer, then presented Bex with her donation, explaining "As the treasurer, normally I wasn't popular as I chased and collected the money from the brethren! But was proud to write this cheque and present it."
Zoё's Place (Children's Hospice) are a regular recipient of Masonic giving as it's such a deserving cause and Barry Horabin explained how the lodge always visited Llandudno in February for a long weekend and that over the weekend a considerable amount of money is raised for charity and that in presenting Aimee Miller, the charities representative, with the lodge's donation, he hoped that it would help in continuing the good work that they do.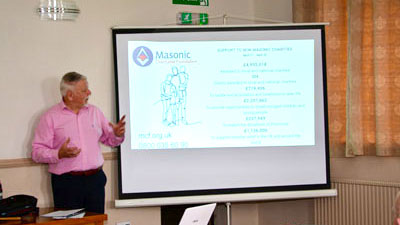 "MIND (Halton) is an independent charity that tailor trusted mental health services to our communities. We have a vision that promotes good mental health for all and treats people with a mental health problem positively, fairly and with respect", explained Nicholas Lunt as he received a donation on behalf of the lodge from Ian Rowan.
Widnes Rugby Union Club (Juniors), were represented by two coaches from the junior section, Simon Alderson and Richard Baraclough, who explained how sport helped the general wellbeing, mental health and fitness of all taking part and that as a club they welcome the donations that the lodge has made over a number of years as it helps to provide kit for those children whose families may struggle to provide it. John Alderson had the pleasure of presenting his son Simon with a cheque on behalf of the lodge and said: "At least this cheque was signed unlike the last one I gave my son!"
Ben Smith and his daughter Piper who was resplendent in her cheerleading outfit represented the newly formed Academy Cheer Group who received a donation to again help the children of families who may find the cost of an outfit too restrictive thus preventing the child from participating in the sport. Alan Patterson presented Piper with a cheque and wished her well in attaining her goals in both gymnastics and cheerleading.
Following the presentation of a cheque by Jack Thompson to Linda Redhead of Soroptimist International of Widnes, Linda explained two of the projects that they are currently working on in conjunction with Liverpool Women's Hospital and how this donation would go towards helping in providing vanity packs to women who have miscarried as well as helping with knitted items.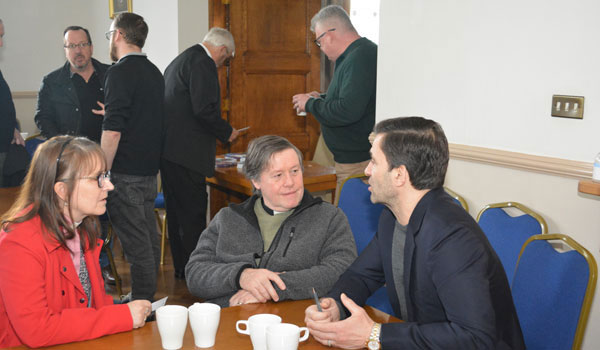 Paul Smith, the lodge chaplain, explained how the Lilac Centre had been fundamental in all of his successful treatment and how pleased he was to be able to nominate and present the cheque on behalf of his lodge. David King, CEO, responded by saying that as a charity they are so thankful for the support they receive which allows them to provide free complementary therapies relating to patients receiving chemotherapy and that this donation as an example could provide several cooling caps to limit or prevent hair loss in patients having chemotherapy.
Widnes Masonic Hall chairman Chris Farley received a cheque from Paul Smythe who said how important it was that we continued to support our Masonic halls as without them we wouldn't have the platform to continue our good work in supporting charity.
Following the presentation of the cheques, Bob said that it would be remiss of him in his role as a Regional Charity Steward if he didn't give an overview of the additional support that was available to those in attendance through both the West Lancashire Freemasons' Charity and the Masonic Charitable Foundation and this was duly covered.
On conclusion everybody was invited to retire to the lounge where tea, coffee and biscuits were being served and this provided the ideal venue for a continuation of discussions and networking opportunities as everybody agreed that this format should become an annual event for the Goodwill Lodge.