Having stepped down from the position of Assistant Provincial Grand Master at the meeting of Provincial Grand Lodge, David Grainger would no doubt have anticipated a period of quiet retirement as he withdrew from the limelight. However, any such plans were quickly put paid to when, at short notice, he was pressed into service once again to be the representative of the Provincial Grand Master at the installation meeting of Ulverston Lodge No 7872.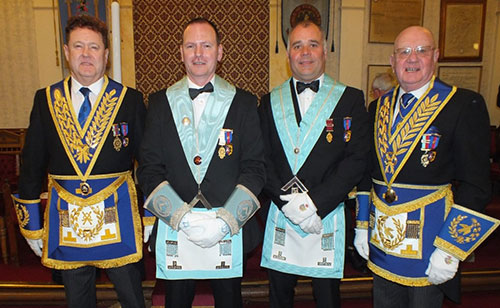 David was able to enjoy what he was later to describe as 'an excellent installation ceremony upon which the installing master can reflect with great pride' as Gordon Evans installed Stuart Allison in his stead. Gordon's work was conducted both accurately and with feeling.
Others too played their part in making the event such as success. John McArthur delivered the address to the newly installed master; group vice chairman Gary Rogerson undertook a similar role in respect of the wardens, whilst David orated the address to the brethren of the lodge. Tony Cassells was called upon to present the working tools of an installed master.
Furness and South Lakeland Group Mentor Keiron Mullan advised newly appointed lodge mentor Ken Griffiths as to his responsibilities, whilst group care officer Ken Robinson performed a similar role in respect of lodge almoner, Glenn Hudson.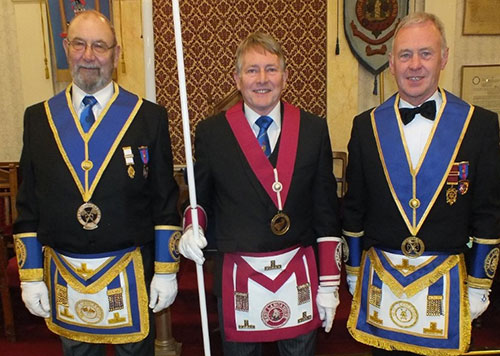 All of these brethren played their part well and added to the enjoyment of the ceremony. However, attracting particular praise were lodge stewards Stephen Bradshaw, Michael McKenzie and Martyn Lloyd who demonstrated that it is not only the experienced Mason who can add worth to a ceremony as the quality of their work proved to be outstanding.
Amongst the observers were newly appointed acting Provincial grand officers Terry Ridal, Alan Hilton and Dave Ingham who added lustre to the formal processions in their resplendent new badges of rank.
To mark the occasion Stuart presented David with a cheque for £1,000 in favour of the MCF 2021 Festival. This entitled Ulverston Lodge to style itself as a Grand Patron of the Festival and group charity steward Richard Wilcock was on hand to present a certificate denoting this fact.
A further cheque for £1,000 in favour of Ulverston Masonic Hall building fund was also presented to David who then thanked the brethren of the lodge for their generous donations.
Following the formalities there was a trip to the Olde Mill, Bardsea on the shore of Morecambe Bay where 95 members and their guests enjoyed the installation banquet.