With a home base within the Hope Street based Liverpool Group, the peripatetic Sovereign's Peace Lodge No 8911 held its September meeting at the Bryn Masonic Hall. This was indeed a very special evening, being the first meeting of the lodge since the removal of restrictions due to the COVID pandemic.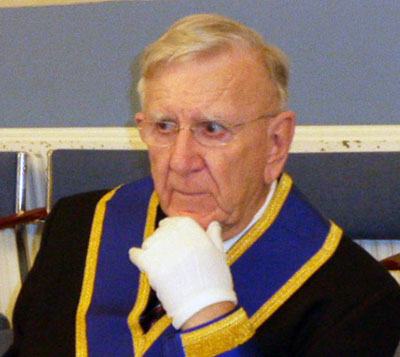 Sovereign's Peace meets four times a year on the last Tuesday in February, April and September at various venues but with its installation held at the Liverpool Masonic Hall in November. It was formed in 1979, and as the name suggests, the membership is drawn although not exclusively from retired personnel who had upheld the Sovereign's peace within our communities.
At the September meeting the lodge was opened in due form and ceremony by the present WM Richard Filmer Wilson, ably assisted by his officers. After opening and completing the preliminary business, the lodge was pleased to welcome Assistant Provincial Grand Master Mark Matthews, accompanied by Liverpool Group Chairman David Johnson and many other grand and Provincial grand officers. The dignified procession was headed by Provincial Deputy Grand Director of Ceremonies Robert Fitzsimmons and the Assistant to the Provincial Grand Director of Ceremonies Peter Littlehales
On welcoming Mark and his retinue into the lodge, Richard proffered the gavel which was eventually taken by Mark, who also took the chair. Mark began by wishing a good evening to all and saying that one of the greatest honours afforded to an Assistant Provincial Grand Masters was to preside over 50 years in Freemasonry celebrations and that he had the pleasure to relay that significant achievement in respect of Richard Wilson. To start the proceedings Mark requested the Provincial Grand Director of Ceremonies, to place the celebrant in a comfortable chair before him.
On enquiring if Richard was settled, Mark proceeded to recall some of Richard's life story to the supporting gathering. Firstly though, he mentioned it would be amiss not to highlight the fact that the milestone celebration should have taken place last year. Of course, the COVID-19 pandemic prevented that event from taking place. He continued by saying: "So early into this new post COVID season, it is excellent to see how many are here this evening to enjoy this happy occasion with Richard."
Richard's story begins in January 1937, when he was born. Whilst his family home was in Douglas on the Isle of Man, he was born in Southsea, Portsmouth, due to his then pregnant mother Marie visiting his father Robert at the Royal Naval base in that area. It was during that visit that Richard decided to 'make his appearance into the world'. Richard was born only two years before World War 2 and his father remained in the Navy throughout those difficult times before joining the Merchant Navy at the end of the war in 1945.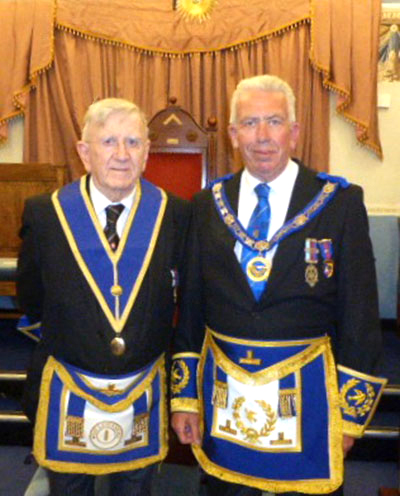 Going back to the year of 1937 when Richard was born, the Coronation of King George VI took place, the Duke of Windsor (formerly King Edward VIII) married American socialite Wallis Simpson and they remained married until his death in 1972. The first Blood Bank was established at the Cook County Hospital in Chicago which revolutionised medicine and helped advance modern surgery and today the Freemasons of West Lancashire proudly support the 'Blood Bikes' used by the Blood Banks in our own area.
The movie 'Snow White' from Disney Studios premiered, being the first full length technicolour animated feature film, and famous personalities born included Bobby Charlton, Shirley Bassey, Warren Beatty, Morgan Freeman, Dustin Hoffman and Jane Fonda.  Popular songs which Richard may have shaken his rattle to while singing along in his pram included, 'The Lady is a Tramp', 'The Lambeth Walk', 'Leaning on a Lamp Post' and 'They Can't take that away from me'.
Richard was the second son born to his parents and his elder brother Robert is now living in France He had two younger sisters, Iris who lives in Tenby and Mavis, who passed away 5 years ago. He attended Murrays Road Infants and Junior School, followed by Douglas High School for Boys. To his credit he left school with four O levels and two A Levels, and obtained an additional O Level and an A Level. On leaving school, like many other young Manx men, he joined the Merchant Navy, working as a deck hand on the Preston to Larne ferry service and later around more exotic locations such as West Africa, the Gulf and Europe. In April 1960, he married Margaret, whom he had met at school, and soon after the wedding was posted to an asphalt carrier running from the Caribbean to the USA.
It was then he made the decision for a major career change to enable him to be at home with his wife. This new direction meant joining the Liverpool City Police, which later on through borough amalgamations became Merseyside Police in 1974. Mark Matthews noted that Richard's first police posting was to Westminster Road Police Station just outside of the Liverpool City Centre, next moving on to the Traffic Department, becoming a motorcyclist.  In the early years of police service Margaret and Richard completed their family with a son Keith and a daughter Judith. It was whilst working on the police motor cycles with colleague and Mason Bill Durney that his interest in Freemasonry was awakened and Bill proposed him into Kirkdale Lodge No 1756, to which Richard was initiated on the 23 September 1970, his seconder being Colin Kelly.
With a blossoming police career Richard continued his excellent pursuit of study and successfully passed his sergeant and inspector promotion examinations, and in time was promoted to the rank of Sergeant, working at Lower Lane Police Station in Croxteth. He later also studied for and was awarded a Higher National Diploma in Public Administration (Police Studies). The next posting was to headquarters where he worked on the team who managed the transition to Merseyside Police in 1974, and on promotion to Inspector was assigned to the Seaforth and Crosby areas, before moving to the Computer Project Team in 1975.
Mark Matthews in talking to the room in general said: "I'm sure that you will agree that to be involved with computers in the mid 1970's, Richard was well ahead of his time with regards to that technology. I know that I didn't engage with computers myself until the mid-1990's." Following on with Richard's career, he progressed further by being promoted to the high rank of Chief Inspector, in which he served with the Computer Project Team and also in the Crosby and Southport areas.
Sadly, wife Margaret had passed away in 1988, just two months before her 50th birthday. Later, whilst on holiday with his daughter in the Gambia, Richard met and subsequently married Barbara. Very sadly, in August, after 32 happy years together, Barbara passed away. Since retiring from the police in 1991 Richard has enjoyed his two main hobbies of travelling and bird watching.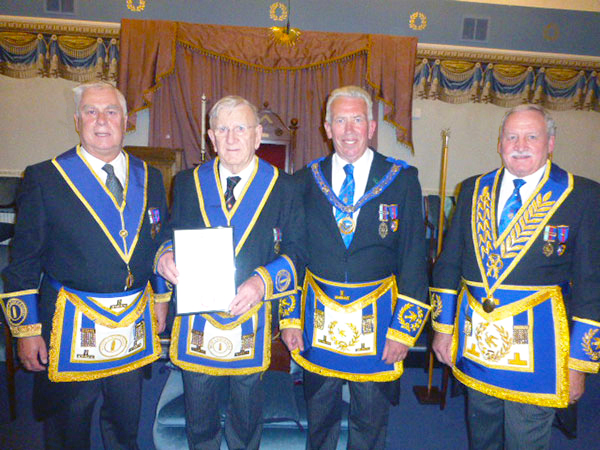 With regard to Richard's career in Freemasonry, following that early introduction from his friend Bill, he has excelled in all that he has done, holding many offices along the way. Presently he is the WM of Sovereign's Peace Lodge. At that point in the proceedings, Mark took the opportunity to thank Richard for letting him sit in the WM's chair for the evening, adding that Richard is also the present Director of Ceremonies for Aigburgh Lodge No 4103. In recognition of his Masonic work, Richard was awarded with a first appointment to Past Provincial Senior Grand Deacon, followed by promotion to the very high rank of Past Provincial Junior Grand Warden. With Richard being a member of Royal Arch and numerous other Masonic Orders, Mark commented that it was so pleasing to see so many of Richard's colleagues from those Orders present to celebrate with him on the evening.
Mark then said: "Richard Wilson, Past Provincial Junior Grand Warden of the Province of West Lancashire, 50 years of service to Masonry is a remarkable achievement. I hope that you will continue to have many more happy years in the Craft. Richard, it has been my great honour to preside over your golden jubilee. Thank you also for your time and hospitality, when I visited your home to learn about your life and Masonic progress. Brethren, please join with me in showing your congratulations and appreciation to Richard, in the traditional West Lancashire Province way, who tonight is celebrating 50 years as a Craft Mason. Richard, our Provincial Grand Master Tony Harrison is aware of your celebration this evening. He has also sent you his congratulations and recognition of your achievement in the form of a certificate, which I will now ask our group chairman Dave Johnson to read." On completion, accompanied by Richard, Mark processed from the lodge room.
Following a delightful ceremony, the gathering moved into the dining room to continue the evening at their festive board with an excellent dinner and liquid refreshment. In response to his toast, the principal guest Mark Matthews expressed his delight on what had been a fantastic golden jubilee for Richard. It had been great to see so many in attendance, all in support for Richard, particularly bearing in mind the current difficulties associated with the present pandemic.
Mark next gave special thanks to lodge secretary Richard Humphreys who, largely through his endeavours in organising the event, had enabled it to run so smoothly. The same was also aimed at the two directors of ceremonies in attendance, Robert Fitzsimmons and Peter Littlehales who effortlessly oversaw the whole of the evening's proceedings which also added to the occasion.
Mark next gave heartfelt thanks on behalf of his wife, the delightful Debbie, who was overwhelmed earlier that afternoon when a rather gorgeous bouquet of flowers arrived at the house. The gift, sent from Richard and the members of Sovereign's Peace Lodge, was that little extra touch, just an extra sentiment that helped light up what was already a special event, a quiet but genuine consideration showing the goodness of spirit that underpins Freemasonry.
The opportunity was then taken to give a brief update on the precautions being put in place for October's Provincial Grand Lodge and Provincial Grand Chapter meetings. They will be circulated to all in the Province but basically explains the procedure for those wishing to attend and includes pre-registration, proof of vaccination and a negative flow test. These are to ensure, as much as possible, the health and welfare of those present. On behalf of the Province, Mark thanked all who had given their support to the Masonic Charitable Foundation 2021 Festival and the amount raised would be revealed at the Provincial gathering.
As expected, the greatest acclamation of the evening was reserved for Richard who stood to thank everyone for their support and good wishes during the evening. He commented that it was truly humbling to see so many in attendance, particularly in this strange time we are living through. In conclusion he thanked everyone again and wished all a safe journey home.