Ian Moore was getting ready to embark on the adventure of a lifetime! On 3 April he was due to fly out to start the Marathon Des Sables or MdS, which to the uninitiated is a six-day, 251 km ultramarathon, in temperatures of 45oC. It is approximately the distance of six regular marathons. The longest single stage is 91 km long.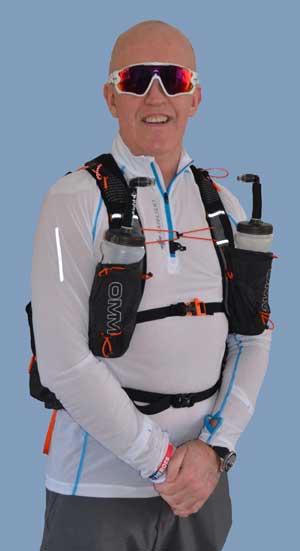 However, due to the coronavirus (COVID-19), the race has been postponed to September. Ian said: "It just makes the training last a little longer I guess!"
Ian Moore is a member of County Palatine lodge No 2505, which meets in Southport. He lives in Formby and has been in the IT industry for over 25 years, he is currently working for an American start up software company. He is married with two sons: one who is an aspiring footballer and the other who is a member of Sefton Royal Marines Cadets and hopes too eventually join the Royal Marines.
This MdS multi day race is held every year in southern Morocco, across the Sahara Desert. The Discovery Channel has described it as the toughest foot race on earth and Ranulph Fiennes described it as the hardest race he has ever run!
Ian has to carry all his own food and clothing in a backpack that weighs about nine kilograms. It's the only race with compulsory repatriation insurance and a venom pump as part of the mandatory kit.
The MdS may not be very appealing, but Ian is doing all this to raise money for the Royal Marines Charity and Sefton Royal Marines Cadets.
The Royal Marines Charity exists to help the entire Royal Marines family. The charity is a strong believer in once a Marine, always a Marine. They offer a range of services to both serving and veterans from financial assistance to advice on finding a second, meaningful career. To find out more click here
Sefton Royal Marines Cadets aim to give young people an experience that will help them grow into the person they want to be in a safe and friendly environment. Through various activities and adventures, they learn teamwork, respect, loyalty, self-confidence, commitment, self-discipline, honesty and how to be the best version of ourselves. To find out more click here.
To watch the Youtube video of James Cracknell taking on the toughest Race on Earth click here.
Ian has been in training now for about two years going out at 4am on the beach, just when everyone else safely tucked up in bed. He is no spring chicken at 50 years of age, he says: "Life's a journey, not a destination."
The brethren of his lodge and many others wish him all the best and look forward to seeing him in lodge in the autumn.
If you would like to make a donation click here