An unusual event for Merchants' Lodge No 241, perhaps for the first time in its long continuous history from 1780, has taken place at its annual installation ceremony. Replicating similar events taking place within Freemasonry, the lodge has had a proclamation ceremony brought about due to the restrictions put in place during the ongoing pandemic.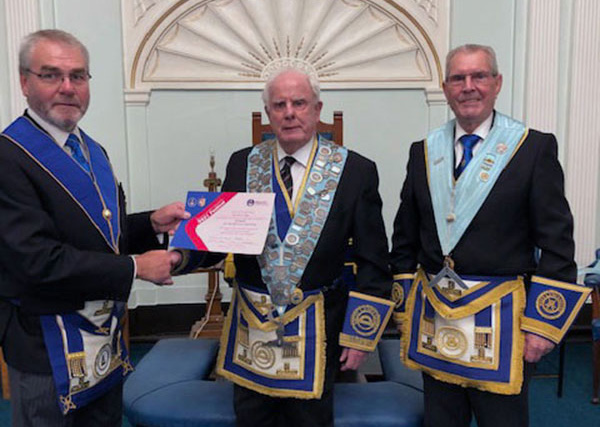 Being opened in due form by the WM Glyn Pine, ably assisted by his wardens and other officers, the lodge was pleased to welcome its principal guest Joe Hall as the representative of the Provincial Grand Master Tony Harrison. On this occasion Joe was accompanied by the Liverpool Group Chairman Dave Johnson.
The ceremony of installation was as mentioned previously, a simple proclamation, followed by the investiture of the officers for the coming year. The address to the wardens was delivered by Raymond Fitzsimmons, with the general address to the brethren of the lodge delivered by Joe Hall. The working tools for all degrees were presented by the director of ceremonies Kevin Dempster.
The first duty of the newly proclaimed WM was to present two cheques on behalf of the members, the first in favour of the Whiston Hospital Critical Care Unit for £250, the other, of equal amount to the Liverpool Masonic Hall Building Fund.
Regional Charity Steward Barry Fletcher was in attendance and presented the lodge with a certificate for achieving full patron status to the Masonic Charitable Foundation 2021 Festival – a magnificent achievement given the impact of COVID-19.
At the festive board Joe Hall responded to the toast to grand officers in fine style and made reference to the long history and tradition of Merchants' Lodge from its formation in 1780. With today's challenges and the effect that the current COVID pandemic was having, it was of real interest the way Joe compared the lifestyles and life expectancy in 1780 to that of today, and the advances made in society.
Joe also found time to congratulate Tom Wood who has had his golden jubilee celebration for achieving 50 years in Freemasonry. At the end of the evening Joe was presented with a floral gift from the brethren for his wife.