The packed congregation at the Lancaster and District Masonic Group's 24th Annual Festival of Lessons and Carols were urged in the Order of Service to give the greatest gift of all this Christmas – a moment in time to offer kindness, compassion and love to those in need.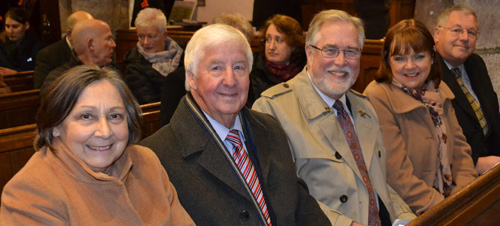 Held once again in the beautiful St Michael's-on-Wyre Parish Church, the occasion saw brethren, family and friends come together for what has come to be regarded by many as the start of Christmas celebrations.
The uplifting and heartwarming service led by vicar Andrew Wilkinson, saw the lessons read by representatives of lodges from across the Lancaster and District Group. A warm welcome was especially given to group chairman Neil McGill, vice chairman Scott Devine and group secretary Chris Larder, together with our Assistant to the Provincial Grand Principals of the Royal Arch Chris Butterfield and immediate past group chairman Jim Wilson.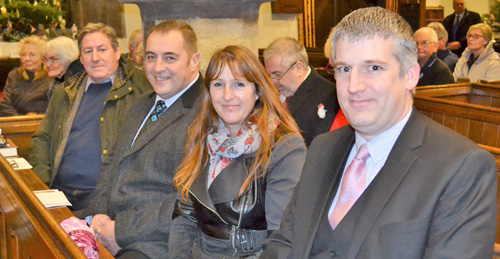 The June Baker Singers reprised their Festival debut performance of last year, to the great delight of everyone and gave two superb renditions of 'One Candle' by Beck and Fisher and 'Were You There?' by Natalie Sleeth. The organist for this year's service was a new name and face – Keith Worsnam. Keith has been playing for more than 70 years and has been both the main organist at Lancaster Priory and the Lancaster City appointed organist for over 30 years. During that time he has played for three members of the Royal family – Princess Anne, Prince Charles and Her Majesty the Queen and Festival organiser Allan Brown was especially grateful that Keith had been able to make time in his busy schedule to give the Festival the benefit of his talent.
Indeed, Allan, as the event's 'guiding star' also wishes to sincerely thank not only Vicar Andrew, but the church wardens and the PCC for their continued warm welcome and support in making the evening such a happy and enjoyable one.
Led by Keith and the Singers the congregation really made the rafters ring to a Festival favourite – 'The Catterall Carol'. Undoubtedly invoking memories of Rev John Finch who wrote it, the carol also causes us to think of family and friends who have departed or are unwell or away on business and can't be with us at this special time of year.
Following the service mulled wine, sherry and mince pies were served which gave everyone the opportunity to offer their own personal good wishes for the festive season.