Prior to their retirement, Colin Jenkins, Phil Stock and Geoff Jackson  respectively Chairman, Vice Chairman and Group Secretary of the Southport Masonic Group, collectively and generously expressed the view that any money donated towards their retirement should instead be used with the intent of aiding  children in need.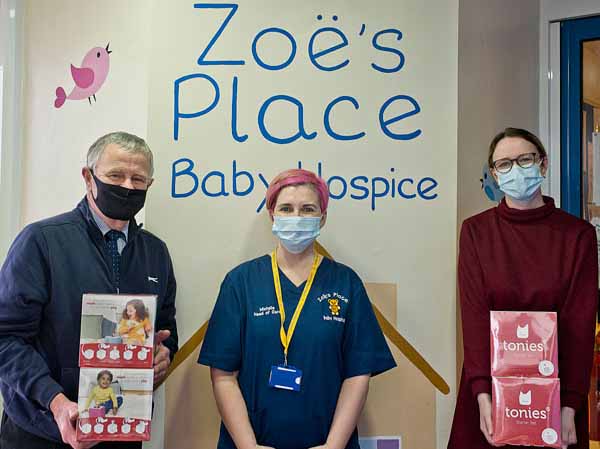 Whilst part of the money was used in purchasing toys for the Ormskirk Paediatric Department, they felt that the remainder could be used in helping the young children and babies who attend Zoё's Place in Liverpool.
Zoё's Place Trust is a registered charity providing palliative, respite and end of life care to babies and infants aged from birth to five years with life-limiting or life-threatening conditions. This care will be provided in a caring, safe, home from home environment known as Zoё's Place Baby Hospices.
After conversations with staff at Zoё's Place it was suggested that Tonieboxes, a clever box full of audio fun and interactive listening for children, would be a very welcome gift and would bring some much-needed comfort to the children.
The Toniebox toy operates via a cloud-based system and are purely audio devices and designed to engage the little listener by encouraging them to use their imagination whilst listening to stories and independent play. There are no buttons or screens on the Toniebox. The only button-like controls are the two grey 'ears' on top of the box, which are the volume controls. The bigger ear turns the volume up, while you press the smaller one to turn it down.
Four boxes of these toys were delivered by Colin and enthusiastically received by Rachel Harrison (Trust and Foundation Fund Raiser) and Michelle Wright (Head of Care). Both ladies expressed their warm appreciation for the gifts and delight in knowing how much the children will enjoy playing with them.