Gerald Eaves who is a member of Tuscan Oak and Lamberthead Lodge No 6387celebrated 50 years in Masonry at Wigan Masonic Hall in the presence of AProvGM David Ogden.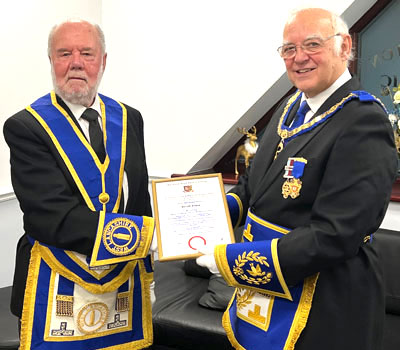 Accompanying David were Wigan Group Chairman John Selley, Provincial Grand Director of Ceremonies Malcolm Bell and Provincial Assistant Grand Director of Ceremonies Robert Fitzsimmons. There were also around 36 members and guests who attended to help Gerald celebrate his momentous occasion in a celebration presided over by David Ogden who gave an insight to Gerald's private and Masonic life.
Gerald was born in Downholland, which is between Ormskirk and Liverpool, and learned how to swim in the canal near his parent's house. Quite fitting as on the Wigan sponsored walk in 2022 whilst walking along the same canal, he lost the sole of his shoe and continued in bare feet, well to the pub at least!!
Moving house several times as an army child, he attended various different schools, eventually attending Hutton Grammar School. Gerald had a successful career in the coal mining industry during which time he married Mavis and eventually settled in Ashton-in-Makerfield in 1966.
With three children, the hobbies he enjoys are watching rugby league and football, as well as horse racing. So great has his passion been for horse racing, Gerald has visited every race course in Great Britain at least twice.
Gerald was initiated into Harrock Lodge No 8233 at Ormskirk on the 21 December 1972, having been invited to join the lodge by his father-in-law. He was passed to the second degree on the 20 December 1973 and raised to the sublime degree of a Master Mason in December 1974. He was appointed to the office of inner guard in September 1976, moving through the offices to become the WM. in 1982.
Other offices held were ADC, Charity Steward for 8 years and treasurer from 2002 until the lodge closure in 2011. On 1March 2012 he became a joining member of Tuscan Oak and Lamberthead Lodge, becoming treasurer in September 2015.
The Provincial Honours Gerald has earned are; May 1993 PPJGD, Oct 2002 PPDepGSuptWks, Oct 2008 PPJGW.
At the end of the celebration ceremony, John Selley read out the details on the certificate produced by Provincial Grand Lodge and signed the Provincial Grand Master Mark Matthews, after which David presented it to Gerald.