Geoffrey Caulfield was honoured and delighted to have the company of distinguished guest Assistant Provincial Grand Master David Ogden at his celebration of 50 years in Freemasonry in Lodge of Truth No 6235.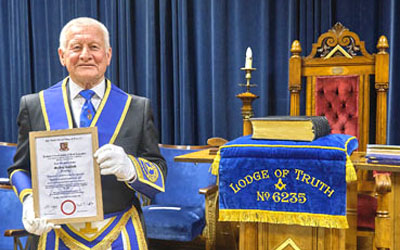 Other distinguished guests attending were Antony Bent, Stanley Oldfield, Edward Caulfield, Leigh Group Chairman Jonathon Heaton, Len Hart, Malcolm Parr and Geoffrey Bent, accompanied by acting Provincial grand officers, Alfred Dickinson and Anthony Roe, and to ensure the occasion ran perfectly was ProvDepGDC Rob Fitzsimmons.
Geoff's Masonic career started when he was proposed into the Lodge of Truth on 2 January 1973 at the age of 28, by his brother Edward Caulfield, this was seconded by David Miles. He was initiated on 2 January 1973 by the late Peter Tickle, was passed on 4 September 1973 by the late Len Gore and was raised on 5 March1974 by the late Alfred Cook, He was installed in the chair of King Solomon in 1985 by his brother Edward Caulfield.
In 1990 Geoff received his first honours as ProvGStwd, promotion to PPSGD in 1994, another promotion to PPJGW in 2002, then finally to PPSGW in 2012. He served as lodge treasurer for 30 years and also as Leigh Group Charity Steward. He Is now currently a lodge auditor and lodge group representative.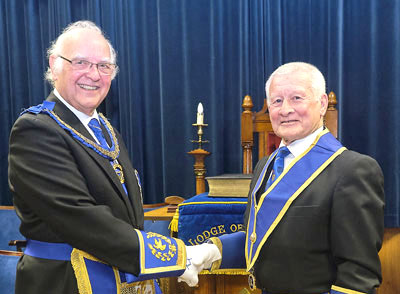 He is a keen member of the Royal Arch of which he then joined the Chapter of Truth No 6235 in 1978, resigned 1988, joined Atherton Chapter No 4488 in 2007, then became first principal in 2011 and received Provincial Chapter honours in 2018 as PPGSoj.
Geoff was born in September 1944 at Newton Road, Lowton, in his grandmother's cottage. His parents were Edward Charles Caulfield and Ellen Caulfield, and his brother is Edward Charles Caulfield, born in May 1942. He started school at Lowton St Mary's Infants and Junior School, followed by Golborne Boys School and then Outward Bound School in Penrith, Cumberland.
He married Linda Boughton on 21 June 1969, he has two children, Mark Stuart and David Paul. His working career started as a salesman for a wholesale and retailing dairy products business in 1968, he was later promoted to general manager. The business was finally sold in 1980 but he continued with the new owners until he retired in 2005.
Geoff played rugby union for Leigh RUFC for several years, then started refereeing. He joined the Manchester Referee Society in 1969 and moved up the rankings to achieve Grade One Status in 1973. This enabled him to referee the senior rugby matches in the North of England, unfortunately in 1978 he had to retire through injury.