After a prolonged period in office for the three principals of Dalton-in-Furness Chapter No 6828, Steve Murray, Morton Richardson and Ian Hallatt, first, second and third principals respectively, rang the changes at a busy installation meeting held at the Fairfield Masonic Hall in Barrow-in-Furness.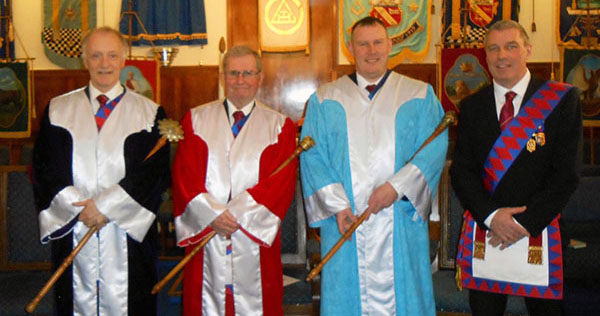 The companions of the chapter were very pleased to warmly welcome the Third Provincial Grand Principal Rev Canon Godfrey Hirst as the representative of the Grand Superintendent Tony Harrison. He was accompanied by other grand officers Barrie Crossley, Peter Schofield and David Grainger, who along with acting Provincial grand officers Harry Chatfield, Alan Hilton and Chris Brown from the Lancaster Group, all added to the colour and dignity of the ceremony and were appreciated by all the companions attending. Helping the ceremony flow seamlessly and able to lend his calm authority to the proceedings was Provincial Deputy Grand Director of Ceremonies Barry Fitzgerald.
Newly installed third principal Jamie Lindsay is not one to let the grass grow under his feet. He obviously enjoys advancing his Masonic knowledge as he has only just installed his successor into the chair of Dalton-in-Furness Lodge No 6828. The stand-in secretary of the chapter Frank Pearson had done a sterling job organising the installation event, only having assumed the role part way through the year.
The director of ceremonies Keiran Mullan had obviously worked very hard with the outgoing principals, as Steve, Morton and Ian performed their tasks and ritual in an excellent manner.
The formal proceedings coming to a close, over 40 companions enjoyed a tasty festive board and were delighted to listen to the Rev Canon Godfrey Hirst who was equally delighted to discover that the companions had raised £400 from a raffle for the Masonic Charitable Foundation Appeal for Ukraine – Dalton-in-Furness companions indeed digging deep for a community much less fortunate themselves.