When Gavin Ramejkis, an IT Consultant Project Manager and a member of North Meols Lodge No 5828 realised that his elderly neighbour Jean McNamara was about to turn 100 years old, he decided to organise a surprise celebratory rendition of 'Happy Birthday' by his family and neighbours and a video posted on social media.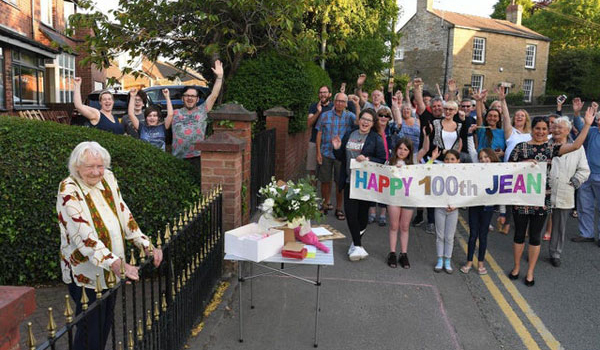 He was overwhelmed by the response from the street and even more so when he found that they had made the local press. Gavin, who has been a member of North Meols Lodge for almost two years and is inner guard, had always taken time to look in on Jean, his neighbour and make sure she was okay. She lives on her own, so he cleared the snow from her garden in the winter, ran errands and always had time for a chat with her.
Due to the coronavirus pandemic, Gavin has had to show some caution and has been exercising social distancing and when needed, carried out DIY jobs for her wearing a surgical mask and gloves.
Gavin added that it brought together the village of Upholland and put smiles on the faces of local residents and families. Around 70 people gathered on Dingle Road to sing Happy Birthday to Jean. They even had a banner made in her honour by local school children. It was a full day of celebrations, with a card from the Her Majesty the Queen and visitors including three police officers from Lancashire Constabulary, who arrived with a card and flowers.
The party continued with a cake, cards and gifts being placed on a table outside Jean's home, with strict social distancing being observed of course. Jean's 100th birthday was certainly an occasion that she and her neighbours will remember for some time.
Article and picture by Ian Dawson.