Garston Masonic Hall, which is part of the Woolton and Garston Group, was the base for donations. The group was able to donate 150 bags of assorted food, children's clothes, toys games and a cheque donation to the local community via the registered charity Garston Adventure Playground.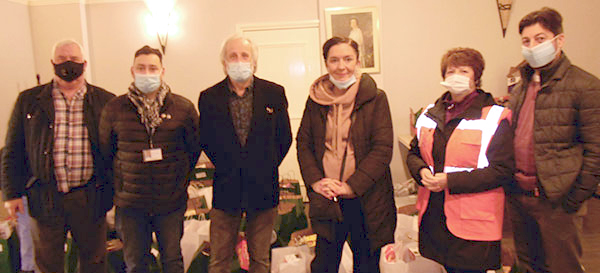 The group was also able to donate 18 bags of assorted food and gifts to Bishop Martin C E School in Woolton for onward transmission to vulnerable families.
Hall Chairman Mal Yates worked in liaison with Councillor Lynnie Williams and Independent Councillor Sam Gould in identifying vulnerable families in the Garston Area. COVID has still had a massive impact within the ward with many families whose jobs had been lost were the targeted referrals ensuring that the most in need received the hampers which brought a smile and released the stress for 35 struggling families in the ward.
Cressington Community Christmas achieved once again, bringing all sectors of the community together and Garston Masonic Hall has for the third year played a pivotal role in bringing it all together, providing a base for Christmas HQ and being on hand in the run up to the big day. Without the continued financial support and commitment of the members of Garston Masonic Hall, Cressington Christmas simply would not happen.
Mal Yates would like to thank all the brethren of the Province of West Lancashire for donations made and their assistance in the delivery of food parcels.