Over the last year, the number of online 'Zoom meetings' and video calls has literally exploded around the world. Our own lodges have even hosted them to great effect. Whilst not being able meet in person, technology has allowed the pleasure of catching up with brethren, friends, and family literally all around the world. Also, to some it has been a lifeline of communication with loved ones.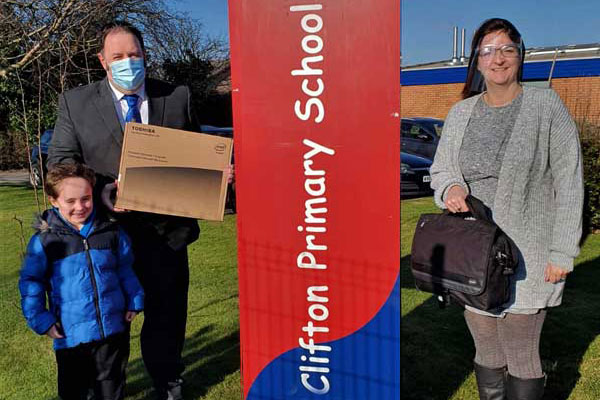 It has been recognised nationally that there are still 1,000s of children who are being educated at home but unfortunately do not have access to the devices required to connect them to their teachers and classmates.
Step forward two brethren of the Fylde, Geoff Diggles, WM of Anchorsholme Lodge No 5854 and Jon Hardman of Ansdell Lodge No 3607. Jon, who is also a school governor, identified at one of his regular meetings that a small percentage of school children have no access to laptops, tablets or electronics at home. This problem is rife across the UK.
Following an approach to John Robbie Porter and Ben Gorry as Chairman and Vice Chairman of the South Fylde Group, an appeal was launched to all brethren across the Fylde to see if anyone had any old machines they were willing to donate.
The response was fantastic, with schools covering Warton, St Annes and Fleetwood having all of their requests satisfied with over 20 devices. These donations have been massively appreciated. To those who have donated those laptops and tablets, grateful thanks were offered by North Fylde Group Vice Chairman Tony Farrar, who was proud of the efforts of Masons on the Fylde coast at this difficult time.
Machines that have been are now being used by children to join in with school video calls, catch up with friends and more than likely to play the latest online games with their pals, whilst their parents think they are doing schoolwork!
However, it is so important that a huge thank you goes to everyone who searched under the stairs and at the back of their cupboards to help.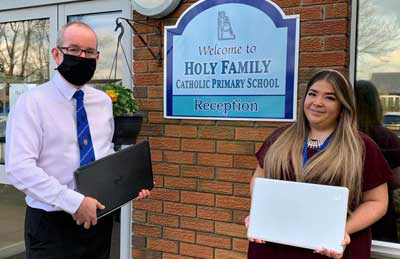 The appeal is one thing, making it happen is another and the brother doing that is Geoff Diggles.  He has donated his time and expertise to refurbish each and every device and in addition has done so for more than 100 other devices which have been distributed here, there and everywhere.
Also putting themselves out were Ben Gorry and his son Aaran, who went to present laptops and equipment to Rachel Legge, Head Teacher at Clifton Primary School in St Annes. Likewise, Jon Hardman was pleased to attend Holy Family Catholic Primary School in Blackpool, where teaching assistant Emma Barnes was on hand to receive several laptops for use by children at the school.
As always, we should never underestimate the power of a small band of committed volunteers. These brethren really are the best amongst us. If anyone does still have any laptops or tablets that are not being used, which they are happy to donate, please get in touch with Ian Park, Secretary of the South Fylde Group, at: southfyldegroupsec@gmail.com