The Coronation Hall in Ulverston was once again the setting for the annual Furness and South Lakeland Group Concert which this year featured 'The Fortunes' who had a string of hit records in the 1960s and 70s.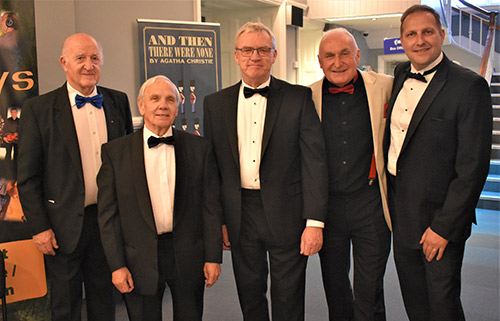 Organised by group charity steward Richard Wilcock aided by wife Jackie it proved a great success once again.
Amongst those showing their support for this yearly event were regular attendees Tony and Maureen Harrison.
Former group chairman Rowly Saunders has been the founder and driving force behind the annual concert for many years and he was once again on hand to add his assistance this year. Others too played their part with the provision of stewards from the group to perform safety and front of house duties, keeping the costs to a minimum.
The entertainment proved to be first class as The Fortunes demonstrated that they were four very accomplished musicians and that in addition they could each add the vocals when required. As well as many of their own hits the two sets included many other popular tunes from the glory days of vinyl.
The banter between the tunes was very well received as the musicians recounted tales of their days on the road and the other band's they had played in.
The downstairs of the hall saw the usual rows of seating replaced by tables in a cabaret type lay-out which worked really well. There was space left at the front of the stage to enable those wishing to display their terpsichorean skills to be able to spring into action. Those up on the more expensive balcony seats were left, as John Lennon once said: "To rattle their jewellery."
Richard is still hard at work at his abacus, but it is estimated that the event will have generated a profit of about £2,000. This money will go towards the group matched funding scheme which will see a sum credited to lodges as they donate to the Masonic Charitable Foundation 2021 Festival and assist with their quest for Grand Patronage.
It was delightful way to enjoy an evening whilst generated money for a worthy cause. Richard, Jackie and all who assisted are to be congratulated for their efforts.