One of the highlights of the Furness and South Lakeland Group Fellowship is the annual Christmas dinner. The event was held at Barrow Masonic Hall with Tony and Maureen Harrison, along with group chairman Peter Schofield and his wife Michelle, included amongst the diners.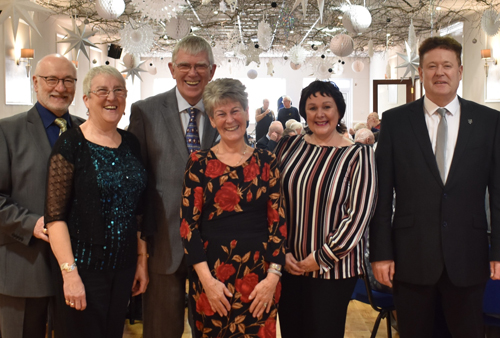 Fellowship chairman David Smith commented: "The Fellowship is entirely self-financing and is open to Masons their wives and widows. We have a good regular attendance but would offer a friendly welcome to any new members who may wish to join us at our monthly meetings."
The traditional Christmas dinner was enjoyed by 70 diners and was followed by a sing-along to favourite carols with guitarist/vocalist Terry Ridal providing further entertainment.
Volunteers from various lodges within the group were on hand to serve up a welcoming glass of sherry, wait tables and assist with the washing up. They helped add to the amiable atmosphere.
Tony commented: "The event has once again been a great success. One of the foundations of our Order is the companionship it provides. The Fellowship continues that theme in providing a place for Masons, their wives and widows to come together and meet with friends or indeed make new acquaintances.
That is particularly important at this time of the year for those whose lack of opportunities to mix with others, or whose family may have moved away and leaves them feeling isolated. I would urge anyone who knows of people who may benefit from what the various Fellowships throughout the Province have to offer to encourage them to go along to them."