Les Preston, the first principal of Furness Chapter No 995, opened the proceedings of the evening with the assistance of Steve Ellershaw and John Calvin.  The business of the chapter being completed, the grand and acting Provincial grand officers were admitted.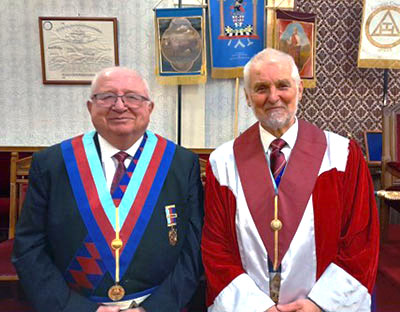 John Quiggin was the representative of the Grand Superintendent Tony Harrison and, along with grand officers Peter Schofield, David Grainger, Rowly Saunders, Alan Jones, their own Barry Crossley and group chairman Gary Rogerson, all added to a memorable evening.
Gary Rogerson was able to congratulate and hand over a certificate to Les Preston as Furness Chapter had also gained Grand Patronage status during the Masonic Charitable Foundation 2021 Festival.
As the offices of first and second principals were proclamations, Les and Steve were able to relax and watch John Cavin install Reg Wilkinson as the third principal in a splendid display of ritual. It was a special ceremony and the acting officers Harry Chatfield, Craig Foster, Harry Kilgour and Alan Hilton could not have failed to have been impressed as John delivered his part of the ceremony in a sincere and heartfelt manner.
Another highlight of the evening was the robe addresses; beautifully explained by Craig McNicol, Tony Taylor and the ever-young Phil Burrow, who delivered the first, second and third principals robe addresses respectively.
Well known in the Furness and South Lakeland Group as a member of Newby Bridge Lodge No 4598 and Hawkshead Lodge No 4354, Reg Wilkinson took another step on his Masonic journey by being installed as the third principal in Furness Chapter. It was therefore pleasing to see his close friend Phil Burrow deliver the robe address to the third principal in fine style. Director of ceremonies Alan Mills was always on hand to keep the companions in order and allowed just the right amount of mirth to erupt once in a while.
The final business being completed, the companions retired upstairs to the festive board for a super three course meal. The long friendship between Les Preston and John Quiggin was evident from both parties and once the formalities had been covered, the quick wit of both flowed smoothly and had the companions enjoying their Freemasonry once again, as laughter was the 'last course' of the evening.
The events of the evening were brought to a close by John Richards who proposed the janitor's toast after the total sum of £585 had been collected for charity through alms and the proceeds of the raffle.