Freemasons from the Furness and South Lakeland Group, are just one of 17 groups within the Province of West Lancashire that are supporting the Food Bank Appeal this year. All the groups have come together once again to donate to this worthy cause, which is supported by the West Lancashire Freemasons' Charity. This year the charity is to donate £30,000 between all the groups for the appeal, which is an increase of £10,000 from last year.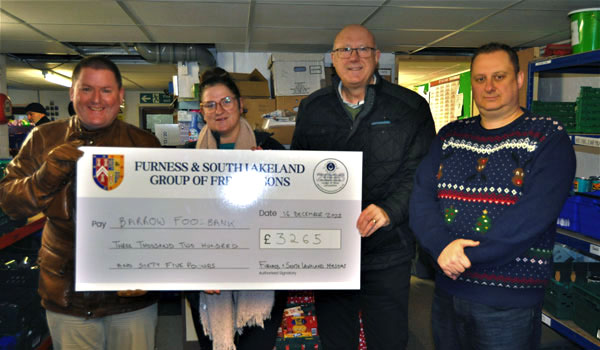 In previous years, each group liaised with their local food bank(s) and provided food parcels and donations. This year, the Freemasons of Furness and South Lakeland were asked to provide a monetary donation thus enabling the food bank to target certain items that were essential for each parcel.
Claire Coulthurst, the Project Manager of the Barrow Food Bank, was delighted to receive a cheque for £3,265 (including £225 from Piel Castle Lodge No 6099) from the group chairman Gary Rogerson, who was accompanied by David Cottam and Phil Renney, the Group Charity Steward.
Claire explained how the extra funds would be used and greatly appreciated by many people that we would never meet. She also stressed how busy they were this year, as the centre was down on volunteers. In fact, Claire could only give the presentation party a 10-minute slot for a quick chat and a photograph! Even though plans had been discussed since September to ensure a smooth run in to the end of December, the work load had still provided a 'hectic' run up to Christmas.
Already, without December figures in the calculations, the numbers of people being fed have increased by 32.5% compared to last year. But, the fantastic group of volunteers are still managing to provide home deliveries, Christmas hampers, well-being hampers, plus 400 extra referrals, on top of the usual foodbank collections during the week. A super human effort by a dedicated team of people, who are working non-stop to help their local community.
Gary was again touched by the generosity of the members of the Furness Group and went on to say: "The problems of the last few years have been compounded, this time by the rise in the cost of living. This has affected us all, but in our community, for some, it has had a greater impact. Giving and supporting the community is at the heart of Freemasonry. We are very happy to support those who are less fortunate than ourselves, especially at Christmas."