Under the guidance of its WM Phil Burrow and his wife Anne, Newby Bridge Lodge No 4598 held a social to raise funds in aid of the lodge. Unfortunately, it had been quite a while since the lodge had hosted a very joyous and happy gathering.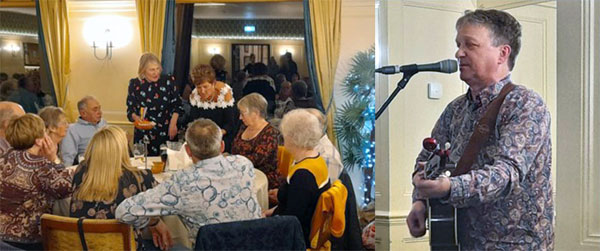 With over 80 attending and anticipating a two-course superb carvery, it wasn't long before the volume within the dining room signalled that everyone was there to enjoy themselves. Fun was definitely on the menu!
Cath Wilkinson was in attendance to lend Anne a helping hand in arranging the tombola, as others sold raffle tickets to the guests, all of whom were very willing to buy.
Just as those present thought the evening could not be any more enjoyable, the amp and microphone were put to excellent use by the entertainer Nick Miller. His first 'set' consisted of songs everyone knew – and so encouraging all to join in was not difficult! In between, he told some outrageous stories and side–splitting jokes. 'Set' two enabled those who had a wish to exercise in the form of a twirl around the dance floor, to show off their latest moves.
Like every other lodge building, they all need a bit of tender loving care and the Newby Bridge Lodge meeting place is no different. The last throw of the pound coins at a rather large bottle of whisky, enabled the lodge to gather a fantastic total of £650, which will be faithfully applied.
During the evening, Phil thanked all those who helped with the arrangements; the hotel chefs and staff from the Newby Bridge Hotel for a wonderful carvery and of course, those who attended. Phil felt there had been great support from those present, to help celebrate the lodge's social event back on the calendar once more.