The annual Friends of the Hall Christmas lunch which took place at Litherland Masonic Hall was attend by 92 brethren, family and friends, all looking forward to a hearty Xmas lunch with all the trimmings and entertainment from the Travelling Wannabes.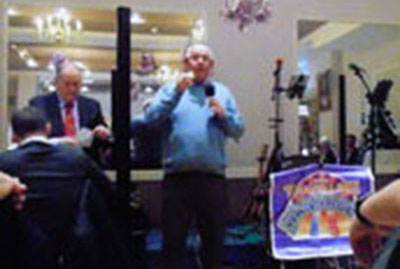 The afternoon started with the master of ceremonies Don Fraser welcoming everybody and explaining that during the afternoon the Xmas spirit raffle would be drawn and that tickets would be sold during the afternoon; first prize being eight bottles, second prize four bottles and third prize two bottles of spirits, and also a general raffle would take place.
After all had been fed and bursting at the seams, the group chairman Graham Chambers proposed the toast to the King. The Travelling Wannabes then started a 45-minute set which saw many people singing along and dancing.
During the break Don handed over to the FROTH Chairman Stephen Oliver who conducted the raffles with help from Graham's wife Ann who drew the Xmas spirit raffle.
Stephen then explained to all in attendance that the aims and objectives of FROTH are to create social opportunities for the brethren and companions of the group, along with their family and friends.
Any monies FROTH raises through its activities go towards projects to improve the facilities in the hall and without expectation it was a chance for all present to see the improvements they had made during the last few weeks, spending close to £10,000 on the following:
New carpeting in the entrance hall and LVT vinyl flooring in the bar area; a 65-inch TV in the bar and a laptop to run presentations and provide an information platform to inform all of what is going on in the group; new bar furniture; mirrors in the bar area; and other things like LED lighting had been installed and curtains dry cleaned and fire-proofed.
Stephen thanked the hall chairman Ian McKinnon for his help and support and the team behind FROTH, namely: vice chairman and master of ceremonies Don Fraser, secretary Peter Kelly, treasurer Roger Holt, And off course the group chairman Graham Chambers.
He then went on to announce that the general raffle and spirit raffle had raised the magnificent amount of in excess of £1,800 to which he applauded everybody for their support. And it was without remit that Stephen thanked Sally, Jim and the catering staff for their excellent Xmas dinner and service.
The Travelling Wannabes, having then been fed and watered, returned for their second set which was enjoyed by all. Nothing then remained but to wish all a Merry Xmas, Happy New Year and a safe journey home.