The Masonic hall of Newby Bridge Lodge No 4598 is based at the picturesque southern end of Windermere, where the brethren were able to celebrate Phil Burrow take the principal chair for his second occasion in fine style.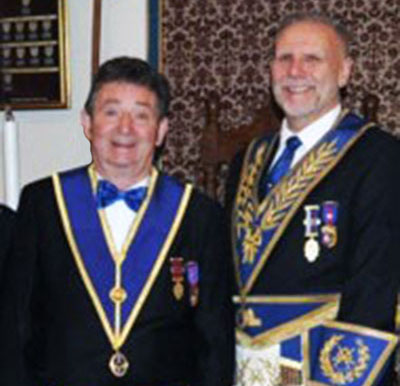 His special ceremony was witnessed by a total of 55 members and visitors who thoroughly enjoyed the event because for many it was their first occasion since lockdown that they had been able to attend such a meeting.
Principal guest, representing the Provincial Grand Master, in his own group for his first occasion was Barry Fitzgerald, who was warmly welcomed by the installing master Alan McDougall. Barry was accompanied by grand officers Kevin Poynton, David Grainger, Rowly Saunders, John Wrennall and Phil Preston, along with the Furness and South Lakeland Group Chairman Gary Rogerson. Adding further colourful splendour were acting Provincial grand officers Alan Telford, Joe Crabtree, Gordon Evans and Alan Tomlinson.
Being the director of ceremonies, Phil Burrow carried out his duties with dignity and in a sincere manner before he was then presented to the installing master by Phil Preston and duly installed in the chair of King Solomon.
Phil Preston delivered the address to the newly installed master with a style straight from the heart. Gary Rogerson gave an assured address to the wardens, and Barry Fitzgerald delivered a perfect oration to the brethren of the lodge.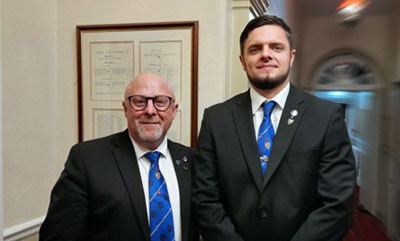 But it was the junior brethren who were a joy to behold, as they presented and explained the working tools. Fraser Nicholson, Gary Mansfield and the more 'senior' brother David Smith can look back with pride for agreeing to take on the task and their very accurate performances.
It was with sadness that the brethren learned that Jack Lowther has had to stand down as the secretary of the lodge, having done a great job for many years. All wished him well and a speedy return to the lodge.
The formal part of the day having ended, all the brethren transferred to the hotel for a delicious four-course meal. The friendly atmosphere was enhanced by the formal and informal conversation, as Barry Fitzgerald revealed what he had gained from being a Freemason: "Companionship, the opportunity to build confidence and a grounding for life." Finally, he added: "Newby Bridge Lodge should be proud to celebrate not just a new WM, but also their first grand officer in 100 years, Phil Preston."
David Smith sang the master's song pitch perfectly as usual and added to what had been a great day of celebration for the brethren of Newby Bridge Lodge.