As part of their regular convocation, Royal George Chapter No 4119 celebrated Raymond (Fred) Higgins' 50 years in the Royal Arch.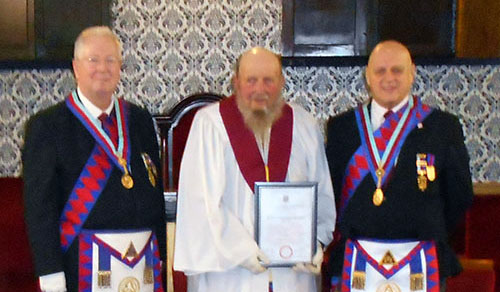 After the opening of the chapter by the three principals, the next part of the evening was an explanation of the office of Scribe Nehemiah, the position that 'Fred' holds in the chapter. The explanation was given by David Boyes as part of the meeting and consisted of the history of the role and from the account, the companions learned that in present day Royal Arch chapters the officer who bears the title Scribe Nehemiah is a representative of a noble and inspiring character. It is an important seated position in the chapter and he is responsible for all admissions to our convocations.
The Garston Group Chairman John Murphy gave a short address which included that in 50 years in the chapter Fred, a stalwart and highly respected member of the chapter, had only missed three meetings and he filled an important position in the chapter which he thoroughly enjoyed.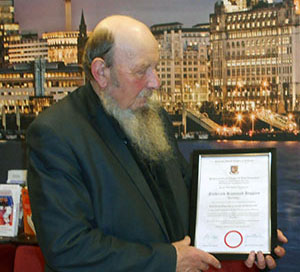 John continued by explaining that the Grand Superintendent Tony Harrison was aware of the evening celebrations and had sent his congratulations on this auspicious occasion. John then requested the group vice chairman David Atkinson to read the celebration certificate and then John presented it to Fred.
The three principals closed the meeting in due form after everyone had congratulated the celebrant.
At the festive board, which consisted of a three-course meal, after the main toasts were completed, the group chairman made a short speech in which he congratulated Fred on his achievement.
Fred thanked John for the toast and he made a brief speech in which he explained that he was one of two candidates to be exalted in January 1970 with a further six candidates exalted in that Masonic season and wished that the same could be said of current times
All in all, it was a wonderful and dignified celebration.