Fred Vickers of Spartan Lodge No 8048 started the new decade off with a golden celebration of 50 years in Freemasonry.
The celebration, held at Cleveleys Masonic Hall, was led by Assistant Provincial Grand Master David Randerson. David was supported by fellow grand officers Peter Greathead, the North Fylde Group Chairman Harry Cox, Eric Picton, Brian Parkin, John Turpin and acting Provincial grand officers Jason Dell, Terry Murtagh, and Alan Barnes.
The lodge was opened by WM Mel Howarth and the normal business of the lodge having been dispensed with, Mel then opened the lodge in the third degree.  After which the Provincial Deputy Grand Director of Ceremonies Jason Dell entered to announce that APrGM David Randerson was outside the door of the lodge and demanded admission.
Once David had been formally greeted and thanked, Mel offered David the gavel of the lodge which on this occasion David replied: "It is an honour to receive the gavel of any lodge but on this occasion I will retain it for a short while."
Once Fred had been seated in comfortable chair before him, David began an interesting journey of the life of and times of Fred. The story begins in 1935, Stanley Baldwin was Prime Minister, Malcolm Campbell broke the 300 mph barrier to create a new land speed record and cats-eyes were used for the first time. Elvis Presley, Jimmy Armfield, Dudley Moore and Rohan Khanai were born and they were joined in 1935 in Blackpool by Frederick James Vickers.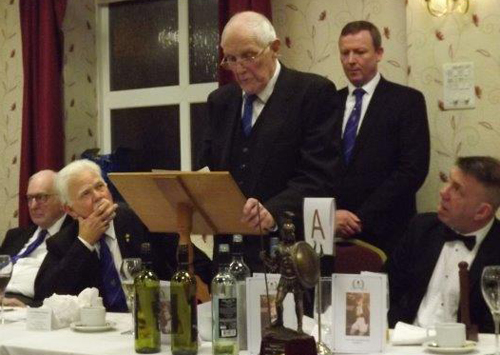 David moved to Fred's Masonic career saying that Fred was initiated in to Spartan Lodge in 1970, adding that Fred took to Masonry like the proverbial 'duck to water'. A transcript of David's full presentation can be found by clicking here.
At the conclusion of the presentation, David called on Peter Greathead to read the commemorative certificate awarded by the Provincial Grand Master, on completion of which David had, he said, the pleasure to present it to Fred. Peter also presented Fred with a badge to mark Fred's milestone achievement of 50 years service in Masonry
David concluded by saying: "It has been my great fortune and pleasure to be able to preside over your golden jubilee." David then asked the brethren to join with him in showing hearty congratulations and appreciation in the usual West Lancashire way to Fred Vickers as he celebrates 50 years as a Craft Freemason.
Once the lodge was closed the brethren proceeded to the dining room.  At the completion of the festive board Fred spoke of the pleasure he felt in responding to the toast to his health with many more insights into his life.