On a fine sunny Wednesday morning in December, intrepid sponsored walker and The Brick fund raiser Frank Highton set off from Hindley Masonic Hall on the first leg of his 'three hall walk'.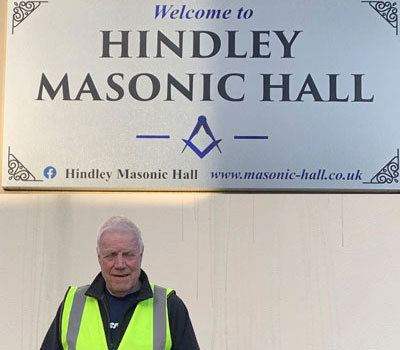 The walk should have taken place on Saturday 17 December 2022, however prevailing weather conditions, not to mention the concerns of the executive walk committee, Wigan Group Chairman John Selley and Mrs Highton, dictated that the black ice and freezing temperatures may not be conducive to Frank's wellbeing, so it was changed to the following Wednesday.
On the allotted day of the walk, Frank arrived at the start point, Hindley Masonic Hall, and got ready for his walk. The first destination for Frank was Bryn Masonic Hall in Ashton, a mere 5.1 miles and a snip for a rambler of Frank's abilities. Winding through Platt Bridge, touching on Bickershaw and bumbling through Bamfurlong, Frank arrived at Bryn Masonic Hall in good time and shape.
Following a brief comfort break, Frank once more embarked on his quest and headed away from Bryn towards Marus Bridge and beyond for the approximate 4-mile hike. His journey took him quite close to the legendary night spot that was Goose Green Labour Club, before heading onto Little Lane, Billinge Road and into Pemberton itself.
A final hop, step and a jump along Enfield Street and Ormskirk Road brought Pemberton Masonic Hall into Frank's view and to be met by John Selley and Mike Turrisi the group charity steward, and to a welcome relief from the labours of the day.

Frank, a past master of Orrell Lodge No 8371, commented that his walk was very pleasant and enabled him to practice the first degree ceremony which he will be delivering at his next lodge meeting.
Over £700 has so far been raised by Frank's latest effort which will be presented to The Brick in January, an absolutely splendid effort. Well, done Frank.
The Brick offers a huge range of services to people who are homeless, in poverty or facing debt crisis. This includes crisis Intervention, hospital to home, asset coaching and Wigan's largest foodbank. As its name suggests, it provides a safe, solid building block for people in crisis to begin rebuilding their lives. Staff and volunteers at The Brick help people tackle the root causes of homelessness, debt, poverty and hunger. To find out more about The Brick, click here.