Some companions do not make the exalted position of first principal in chapter, many do and indeed some do it twice. At the installation meeting of Standish Chapter No 4995, Terry Worthington achieved this high honour for the fourth time in his 45 years in the chapter, having been exalted in 1978.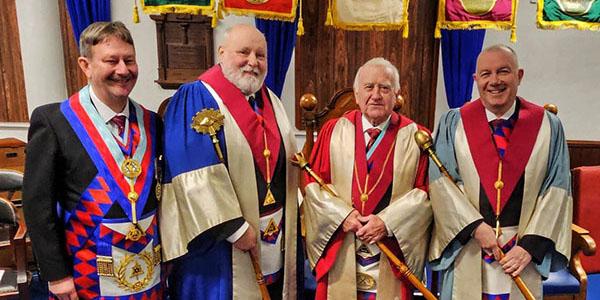 Assistant to the Provincial Grand Principals Paul Hesketh was the principal guest at this special meeting in the chapter's year. Paul was joined by group chairman Peter Allen and acting Provincial Grand Steward Kevin Byrne at what was to prove a very enjoyable evening.
All the companions in attendance thoroughly enjoyed watching Terry being installed as first principal by group vice chairman Dave Bishop, they watched Anthony Price installed as second principal by Malcolm Bell junior.
Unfortunately Malcolm Schofield was unable to attend but hopes to attend the September convocation to be installed as third principal.
As the ceremony drew to a close, Paul brought greetings and best wishes on behalf of the Grand Superintendent Mark Matthews, saying that he was sure that if Mark had been able to be there he would have totally enjoyed the ceremony.
Following the installation ceremony, all retired to a most enjoyable and happy festive board in the function room at Chorley Masonic Hall. As always on these occasions, friends old and new enjoyed each other's company as well as a meal cooked and presented to her normal high standard by the caterer Sharon.
During the festive board, Paul Hesketh commented that it had been a most enjoyable installation ceremony and a pleasure to witness Terry being installed once again as first principal and that the festive board was a delight and to sum up the proceedings, that it was an absolute feast of Royal Arch Masonry.