Members of University Lodge of Liverpool No 4274 were delighted to welcome five new members at their regular monthly meeting, plus one joining member. The lodge has grown by 12 new members this year already and while they have lost some of their brethren following graduation etc, they will in many cases have moved on to other lodges in England or Wales and hopefully the rest will come back to Freemasonry once they have settled in their chosen careers.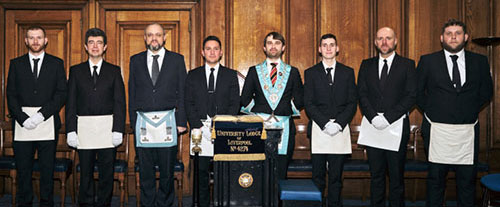 Not finished yet, the lodge had to hold an emergency meeting on a Saturday at the unusual time of 10:30am by applying for a dispensation to the Provincial office to enable them to progress some of their number through the second stage of their membership. Holding only six meetings a year is becoming an issue with the numbers joining. Therefore, the lodge will be looking carefully at whether the present frequency and organisation of meetings will be sufficient in the future.
The dispensation to hold the emergency meeting was read by the secretary and the WM, assisted by his wardens, opened the lodge. The Provincial Grand Master James Anthony Harrison joined the brethren on opening the lodge as a private visit in the company of Assistant Provincial Grand Master Keith Kemp, along with Provincial Grand Director of Ceremonies Malcolm Bell and the Chairman of Gladstone Group John James.
The WM welcomed Tony and offered him the gavel. Tony thanked him and swiftly returned it. The WM with the assistance of his officers proceeded to pass four entered apprentices to the degree of a fellow craft according to ancient custom. The father of one of the student brothers had travelled up from the Midlands to proudly enjoy the occasion.
The morning was carried off with great style and in a flawless manner by the WM and all his officers to the congratulations of everyone present.

Photographs courtesy of #IMAGINEBYSZP.