Sacred Delta Chapter No 216 has a distinguished history stretching back to 1859. With a parallel to today it is interesting to note in its history that the chapter continued to meet throughout the Spanish flu pandemic of 1918/19 in direct contrast to recent suspensions of chapter meetings.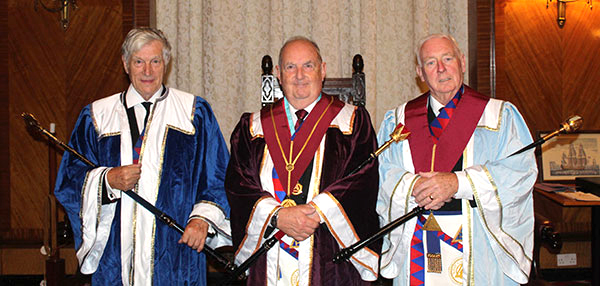 Companions of the chapter were delighted with the resumption of meetings and looked forward to the installation ceremony of the three principals.
The chapter being duly opened, the three principals then warmly welcomed their distinguished guest Kevin Poynton, who was representing the Grand Superintendent Tony Harrison. Kevin was accompanied by Chairman of Gladstone Group John James and Malcolm Alexander. The three principals expressed their wish that their distinguished guests enjoy the installation and festive board.
First principal William Follet, second principal Gerry Carson, and third principal Michael Melling had all graciously agreed to remain 'in position' and so were all installed in turn in an impressive ceremony.
This was particularly poignant as first principal William was to be installed for a fourth consecutive time, having also served as first principal previously in 2010 and 2011.
Following investment of officers and completion of the installation ceremony, Kevin rose and congratulated the three principals and companions and wished them all well for the ensuing year. With the business of the chapter concluded, the companions retired to the festive board.
Third principal Michael Melling in proposing a toast to the health of the principals, delivered a heartfelt and very sincere speech, especially with regards to the discussion in open chapter of potentially surrendering the warrant of the chapter. Expressing a debt of gratitude owed to first principal William Follett in continuation of his leadership and service to the chapter, the companions all heartily agreed with a common desire to see the continuation of the chapter in its present form.
The warmth and friendliness of the companions shines through for Sacred Delta and hopes are alive for a long and continued journey for the chapter – four and not out indeed!