Formby Lodge No 5659, which is part of the Southport Group, after 86 years was considering closure until the Chairman of Ormskirk and Bootle Group Graham Chambers stepped in with his proposition of making it a daylight lodge.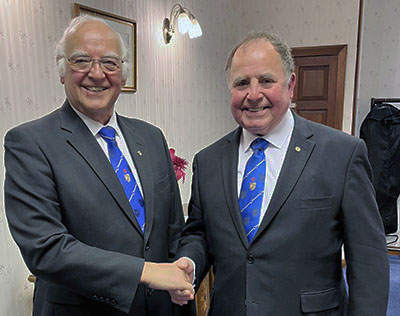 The brethren of the lodge voted in favour and after six months of discussions, checking rules and regulations, paperwork required and most importantly, finding out how many brethren would be interested in joining and happy to take office.
All of these things came together, culminating at the installation meeting of Formby Lodge when Graham Chambers was installed as WM in the company of Assistant Provincial Grand Master David Ogden. David was accompanied by grand officer Roy Pyne, the Chairman of Southport Group Phil Stock and acting Provincial grand officers.
After the installing master Gary Turner had installed Graham into the chair of King Solomon, the director of ceremonies Phillip Baines resumed the completion of Graham's installation. It was at this point that David addressed the brethren of the lodge and after returning to his seat and before getting chance to sit down, Graham had risen to inform David that he had a very pleasant duty to perform by presenting him with several cheques to various charities, totalling a magnificent sum of £5,000. David thanked Graham and the lodge brethren for their generosity.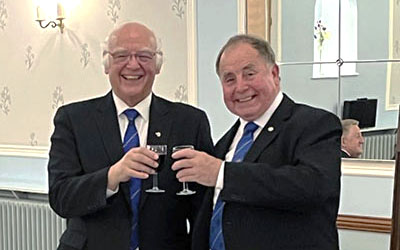 Following the installation meeting, the 43 brethren adjourned to the festive board where David Ogden gave Graham his own congratulations and confirmed this was his last installation as an Assistant Provincial Grand Master due to his retirement in May. At this announcement, David received a standing ovation. David went on to say that there was an overwhelming feeling that Formby Lodge, with all its history and traditions, has a secure future as a daylight lodge.
The make-up of the new lodge is a very healthy mix of some brethren from the current Formby Lodge and Masons from lodges meeting at Southport, Litherland and Ormskirk Masonic Halls. It is planned that Formby Lodge will meet six times a year on the third Wednesday of September, October, November, February, March and April, the last being the installation meeting. The start time is planned for 11am and closing at 2pm.
There is a valid suggestion that at one of the meetings the brethren will meet at 9.30am for breakfast and dispense with the festive board.  This would allow the members and their guests to enjoy a game of bowls or a coach outing with their other halves and friends, or even a 'Tea Dance'. Further information can be obtained by contacting the lodge secretary Trevor Martin at trevortmartin@btconnect.com.